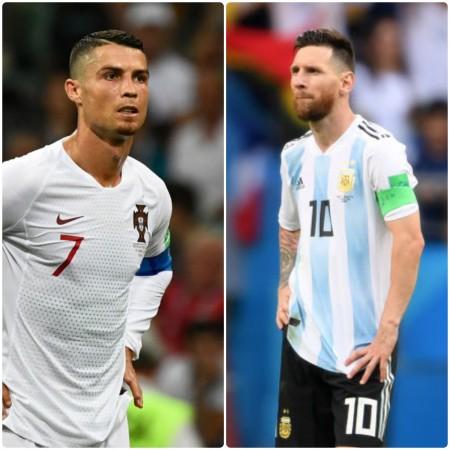 The three men shortlisted for the UEFA player of the year was announced on August 20, Monday. The selected three -- Luka Modric, Cristiano Ronaldo, and Mohamed Salah -- emerged top by a jury comprising of 80 coaches and 55 journalists.
These coaches belong to the clubs that participated in the group stages of last season's Champions League and UEFA Europa League. Along with them, 55 journalists selected by the European Sports Media (ESM) group, representing each of UEFA's member associations were also part of the jury.
Mohammed Salah's inclusion was perceived to be surprising as critics have claimed that although he did have a great individual season, he could neither lead his club Liverpool nor his country Egypt to a tournament win. The fact that he got ahead of Lionel Messi added controversy to the proceedings.
Messi finished fifth in the voting. It seemed as if the jury and the coaches excluded him because of Barcelona's Champions League quarterfinal exit and Argentina's World Cup woes.
If Salah is to be commended for his individual performances in a losing cause then Messi would wonder where he went wrong. The Argentine scored 34 goals in 36 La Liga matches as Barcelona lost only one match in their league campaign.
While Salah got plaudits for a Premier League record scoring 32 goals in 38 matches. The Egyptian did enough to ensure his team's qualification for the UEFA Champions League as Liverpool finished fourth in the league.

Messi also played a commandeering role in his club's Copa Del Rey victory. Salah could not secure any domestic cup for Liverpool. The only competition where it can be conclusively shown that Salah performed better in the past year than Messi was in the Champions League.
Salah had scored 10 goals as Liverpool emerged as runners-up while Messi scored six as Barcelona crashed out at the quarterfinal with a 3-0 loss to Roma.
At the World Cup, Messi did ensure his team progressed to the second round where they lost to eventual winners France. Salah's Egypt lost all three group-stage matches.
It seems as if Salah made more headway than Messi in the voting because of more media attention being levied on his goal-scoring exploits. Messi's continuous ability in scoring may have gotten downplayed. The fact that Salah was the top scorer in his first season for Liverpool and that he got Egypt through to the World Cup after 28 years paved the way for his recognition.