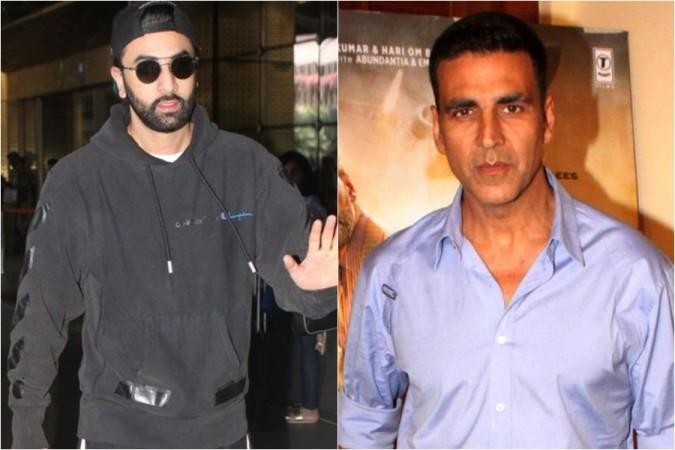 It looks like walking out of Mogul, a biopic based on the life of music baron Gulshan Kumar which was announced last year, has cost Akshay Kumar a fortune and he is reportedly upset.
A few days ago, the Khiladi Kumar had confirmed that he was no longer a part of the biopic citing a disagreement with the makers over the film's script. In March, T-Series head Bhushan Kumar too had announced Akshay Kumar's exit. Bhushan Kumar had said that he will confirm an actor soon and he could be a bigger star than the Gold actor.
"My father's biopic is very close to me. That is the biggest announcement we have made in our lives and we will confirm an actor soon. He could be bigger than Akshay Kumar," Bhushan Kumar was quoted as saying by Deccan Chronicle.
Rumours are now suggesting that the makers of Mogul are trying to bring Ranbir Kapoor on board to play the role of Gulshan Kumar on screen following the success of Sanju, a biopic on Sanjay Dutt directed by Rajkumar Hirani. But Akshay Kumar feels that there could be no actor who could play Gulshan Kumar in his biopic than him.
When Akshay Kumar was asked about the actor who could step into the shoes of Gulshan Kumar in Mogul after his exit, he instantly replied, "I don't think anybody besides me."
Well, it seems like Akshay Kumar wants the role badly but fell short as he couldn't be on the same page with the film's director -- Subhash Kapoor. In fact, the actor also refused to endorse Aamir Khan and Ranbir Kapoor as his replacement. The poster of Mogul still has Akshay Kumar's shadowed face embalmed on it.
After Akshay Kumar's sudden exit from the project, Bhushan Kumar had asked Aamir Khan to produce the film along with him. The two have now joined hands for the most awaited biopic and recently announced that the movie will release on Christmas 2019.
Written and directed by Subhash Kapoor, the shooting of the biographical film will start in early 2019.
Being close to his father, Bhushan Kumar always wanted an opportunity to tell his story. They hope it would be able to do justice to the legacy which has been an inspiration to the family.