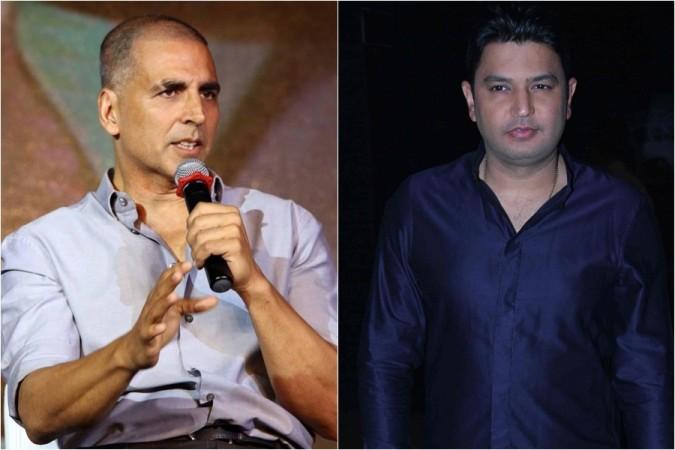 It looks like Akshay Kumar and T-Series head Bhushan Kumar have decided to burn the bridges behind them. The two reportedly had a major fall-out over their upcoming Mogul which was announced last year. The movie is based on the life of Kumar's late father Gulshan Kumar and Akshay Kumar was chosen to play the role of the music baron.
But earlier reports had stated that Akshay had walked out of the project as he couldn't be on the same page with the film's director Subhash Kapoor. Both Bhushan Kumar and Akshay Kumar refuted the rumors and reasoned that they were working on the film's script then. But now it seems like the repercussions of Akshay and Bhushan's sour relationship has started to show its signs on the celluloid.
Bhushan Kumar has now openly announced that Akshay Kumar is not a part of Mogul anymore adding that they are looking for a bigger star than the Khiladi Kumar. Reportedly, Akshay Kumar has also returned the signing amount.
"My father's biopic is very close to me. That is the biggest announcement we have made in our lives and we will confirm an actor soon. He could be bigger than Akshay Kumar," Bhushan Kumar was quoted as saying by Deccan Chronicle.
As Akshay Kumar is out of the equation, Bhushan Kumar is now reportedly looking to get Salman Khan on board to play Gulshan Kumar's role in the biopic.
"Bhushan had asked Aamir to produce the film along with him and possibly get Salman to play the lead. Bhushan has built a great rapport with Salman over the past many years and they are waiting for the formalities to be completed," a source was quoted as saying by Deccan Chronicle.
The poster of Mogul still has Akshay Kumar's shadowed face embalmed on it.