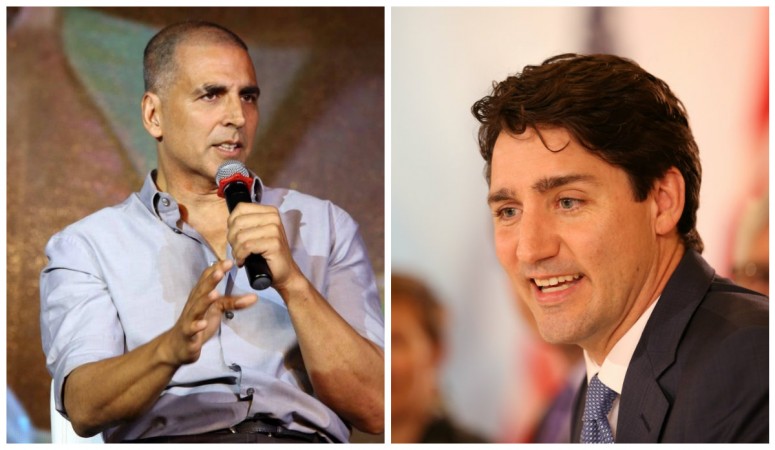 Canada Prime Minister Justin Trudeau visited Mumbai on Tuesday, February 20, and soon Akshay Kumar began to be trolled on social media. For the unaware, the Padman actor holds Canadian citizenship, which gave the trolls ammunition to make fun of him.
It is now a well-known fact that Akshay holds a Canadian passport and calls his Canadian citizenship an "honorary status". Hence, when the Canadian prime minister arrived in Mumbai, tweets started pouring in suggesting he had come to India to take Akshay back to Canada.
Some others sarcastically asked Akshay about not going to greet "his Prime Minister", while yet others said Justin would definitely meet Akki before leaving Mumbai.
Some even went on to say that Akshay would arrange a special screening of Padman for Trudeau.
Hardly any celebrity is immune to online trolling these days, it seems.
Check some of the tweets trolling Akshay over Trudeau's visit to India:
Canadian citizen Akshay Kumar doesn't welcome Canadian PM Justin Trudeau in India. Isn't he anti national for Canadian nationalists? Canada gave him so much & he doesn't respect Canadian PM?

— Geekology ? (@academic_dud) February 20, 2018
To strengthen the bilateral relationship btwn two countries, Canadian PM Justin Trudeau has rqsted Modi ji to cut down GST & reserve all the festivals for Akshay Kumar starrers. Foreign ministers in presence of their resp leaders to sign MoU regarding this matter on a holiday.

— Bhagoda Canadian Deshbhakt (@FlopAkshayKumar) February 18, 2018
Akshay kumar,look ur PM is here...!!! Ruuunnnn....

— Mamta (@Mamta33691570) February 18, 2018
Today, Akshay Kumar is very much pleased to see Justin Trudeau the Prime Minister of Canada(PM of Akshay Kumar's country)who has come to India on the special request of Akshay Kumar for the special screening of his film Padman.
Welcome to India Mr. Justin Trudeau ✌️?? #Padman

— Ali Imran (@AImranabidi) February 17, 2018
Meanwhile, reports stated that Trudeau has plans to meet some of the top Bollywood producers in Mumbai to explore various opportunities in the field of cinema. It is not yet confirmed if he will meet any of the top stars from the industry.
In India since Monday evening, the Canadian prime minister is on a week-long visit, accompanied by his wife Sophie and three children.
On the other side, Akshay's latest release PadMan has been having a decent run at the box office, but has failed to create the expected impact.
There was considerable hype around the film, and it was being expected that PadMan would turn out to be yet another Rs 100-crore film from Akshay. However, the film's business witnessed a drastic fall at the box office right after its first weekend, and its collections are less likely to cross the century mark.