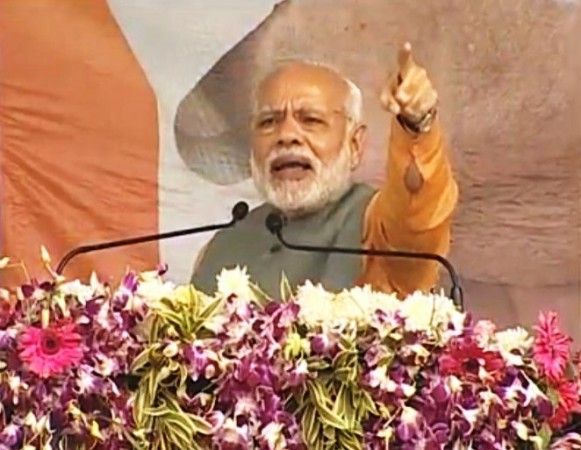 Install a BJP government in Uttar Pradesh and get loads of lollipops from me: Prime Minister Narendra Modi has set the agenda for Uttar Pradesh elections. In his first forceful rally that took place in Meerut on February 4, the heart of western Uttar Pradesh, which goes to the polls on February 11, Modi, in his characteristic style, twirled his index finger at the thousands of participants, exciting them to take advantage of the situation where he, sitting in New Delhi, would flood them with several opportunities, but only if the state government also happens to be that of his party.
UP Assembly Elections 2017: Will the Meerut rally be PM Narendra Modi's Waterloo moment?
Through a clever display of various monetary facts, Modi detailed the counts of the various cache of money that were given to the present Samajwadi Party government headed by Akhilesh Yadav, but which have not found the right targets. Akhilesh would, of course, refute all these points. But the prime minister has essentially made it clear that he will pump in huge amounts of money for Uttar Pradesh's development and will be able to also monitor the usage more decisively if the state government is also his.
By logic the inverse is also likely to be understood by the people of Uttar Pradesh; that if the state government is not a BJP set-up then do not expect much money to come in from New Delhi. The point was very ingeniously crafted by Modi when he, for more than 10 minutes in a 40-minute speech, explained how crores of rupees were left unused by the Akhilesh-led SP government only because every expenditure was severely monitored and accounted for in Delhi. Such strict scrutiny made the state government feel stifled, and it could not use the money for any other ulterior motives. As a result, huge amounts were left unused since otherwise the benefits would have reached the non-SP vote banks as well.
The prime minister completely shied away from the issue of reservation for Jats, who play a decisive role in more than 50 Assembly constituencies in this part of western Uttar Pradesh and who were keenly waiting for some assurance on this score. But it was apparent that Modi is quite confident about his ways, wherein he made the youth of the land understand the fact that if he turns the region into an infrastructure hub and Meerut becomes a robust industrial town then jobs galore would be up for grabs, making the issue of reservation irrelevant.
The cheers and frenzy that he worked up in the audience, mostly comprising the young and aspiring population, does give a feeling that the prime minister's clean and honest image stays with the masses. They seem to be believing Modi and are seen cheering for him, eager to give him a chance after many years of the BSP and SP rule.
Though he got the tenses jumbled up at times and looked a tad tired in the beginning, Modi warmed up well and could engage the masses as he continued the speech. The show was a success for the BJP, and will give bold jolts to the unfolding rumble of Akhilesh and Rahul combine.
The prime minister next goes to Aligarh in a couple of days and the speech there will surely be tweaked for some regional specifics, as he did in Meerut, when he talked of atrocities caused to sugarcane farmers and saluted Indian soldiers, many of whom come from this region.
What will, however, ride in his campaign in UP has been unraveled and it is just this one sentiment: Nothing will happen in the state, everything will get stuck in Lucknow if the BJP doesn't have its own government here.