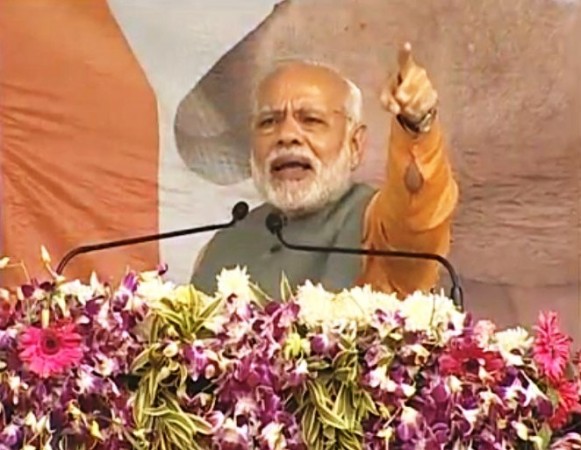 Prime Minister Narendra Modi had his task cut out at a Sankalp rally at Meerut at around 2 pm on Saturday. The seven-phase UP Assembly elections are just around the corner, and the prime minister needs to muster up as much support from all quarters if he wants the BJP to upstage regional giants like the ruling Samajwadi Party (SP) and the Dalit-supported Bahujan Samaj Party (BSP).
Also read: UP Assembly Elections 2017: Will the Meerut rally be PM Narendra Modi's Waterloo moment?
Modi knows the political importance of UP: It is the state that has sent the most number of prime ministers to office, including himself. Having a bigger presence in UP should help the BJP coast through the next Lok Sabha elections, which is two years away.
Here are the live updates from the rally:
3:07 pm IST: And with that, PM Modi has ended his speech, and has been greeted with rousing chants of his name.
3:05 pm IST: "We focused our entire Budget this time on the poor and the middle class. Can anyone else even think of Rs 10 lakh crore for farmers?" asks the prime minister.
"If any government employee harasses anyone [like small businessmen], just tell me: I will come to your defence," he adds. "Bless me so that I can rid UP of the corrupt, the mafia, the criminals."
3:02 pm IST: "I knew on November 8 that the step was difficult. I knew I would make many enemies. They have united now because they feel I have looted them and so they must pull me down. I need your help to end corruption," says Modi. "As long as I am in power, I will not sit still and not let the corrupt live in peace."
3 pm IST: Here comes demonetisation. "Money stashed for 70 years was forced to banks at 8 pm on November 8, 2016. I had said people would suffer for 50 days. After that the corrupt would suffer. Now they are suffering," he says. "I want to ask the Congress how come Rs 150 crore was seized from one of their leaders in Karnataka, and how come he is still a minister?"
2:57 pm IST: "And yet people [the Congress] kept asking for proof of the surgical strike," says Modi. "Some were even sorry that no Indian Army jawan was killed. Do these people deserve to be in politics?"
"Parivartan [change] is necessary in UP," says Modi at the Parivartan rally. People erupt in chants in his name.
2:55 pm IST: "This Diwali I went to the border we share with China. An elderly Sikh came to me and asked me to send him to the Pakistan border and give him the chance of another surgical strike," he says.
2:53 pm IST: "We have underestimated our armed forces personnel before this. They were not allowed to fire their gun despite being killed. I talked to them, tried to give them time. And then they carried out the surgical strike on Pakistan's soil. The biggest countries are still studying how it happened," says Modi.
2:50 pm IST: "Those defeated in 2014 have taken up the task to oppose everything," he says. "Our armed forces brethren had been demanding the One-Rank-One-Pension scheme for 40 years and died during that time. OROP is a reality now despite a burden of Rs 11,000-12,000 crore on the country."
2:48 pm IST: "Wherever there is a BJP government, around 60 percent of the farmers' produce is bought by the government. How come the UP government takes only 3 percent of the local produce?" asks Modi.
2:45 pm IST: "Rs 22,000 crore was due towards sugarcane farmers when we came to power in 2014. People who play politics in the name of farmers should tell us why so much money was due to the sugarcane farmers," says the prime minister. "Around 99 percent of that amount was directly transferred to 32 lakh sugarcane farmers as soon as we came to power."
2:43 pm IST: "I congratulate UP BJP leaders for their decision that as soon as BJP comes to power in the state, farm loans will be waived," says PM Modi. "Also, sugarcane farmers will get their dues within 14 days, without any delay."
2:40 pm IST: "I had dreamt that by 2022, when we celebrate 75 years of Independence, every person should have a home to stay. The state government had to take stock of those who fall in the category of the scheme, make a list and send to the Centre. They have not sent a single name," says Modi. "The government awoke only when youngsters at the community centres were enlisted to give us the name."
2:38 pm IST: "The Central government had given Rs 9,500 crore to the UP government for cleanliness. And they spent not even Rs 40 crore for cleaning," says the prime minister. "If you want to change the fate of UP, change the government in UP."
2:35 pm IST: "Rs 7,200 crore was given to the UP government as part of the Atal Mission for Rejuvenation and Urban Transformation (AMRUT) for the improvement of cities, but the state spent only Rs 400 crore," says Modi.
"The days are gone when Modi will not ask for details of expenditure," he adds.
2:32 pm IST: "UP government did not spend even Rs 2,500 crore out of Rs 4,000 crore sent to them for health schemes of pregnant women and the elderly in 2014-15," says the prime minister. "The next time, less than Rs 2,800 crore was spent out of Rs 7,000 crore sent from Delhi."
Modi also asks: "Do the sick have a caste? Are they a vote bank? Why, then, did they not spend money on the sick?"
2:30 pm IST: "Why did the SP have to give tickets to those it had called corrupt and coal mafia?" asks PM Modi
2:28 pm IST: "I would like to tell SP leaders and their alliance partners: If the UP government does not have the will or the strength, the money I send from Delhi will either be squandered or rot," says PM Modi.
2:25 pm IST: This election is the BJP's fight against SCAM, says PM Modi. "S: Samajwadi, C: Congress, A: Akhilesh, M: Mayawati," he explains. "Decide whether you want scam or the BJP and UP's development."
2:22 pm IST: The Congress went to villages to show how the SP was looting them. "What happened overnight that you embraced them," Modi says of the SP-Congress alliance. "They never used to let a single opportunity to go in order to finish each other."
2:18 pm IST: "Meerut is the gateway to the development of western UP," says PM Modi. He adds: "Goons receive political shelter here."
2:16 pm IST: To chants of "Modi! Modi!!" he says that he needs to do more for Uttar Pradesh. And adds that benefits from Delhi stop at Lucknow due to governments that create hurdles.
2:15 pm IST: It has been two-and-a-half years [since he was elected prime minister], but no taint has come to his name, says Modi as a way of indicating that he has not let UP down for electing him to the Lok Sabha.
2:13 pm IST: The prime minister says this is a fight against poverty, the corrupt, the land-grabbing mafia, and those who shelter criminals like rapists and murderers.
2:12 pm IST: Modi reminisces of the struggle for Independence, whose start came from Meerut. He says he hopes the BJP's start of change in UP will start from Meerut this time.
2:08 am IST: Modi has taken the stage. People are chanting his name.
1:50 pm IST: PM Modi is expected to take the stage soon and speak at the rally at around 2 pm.