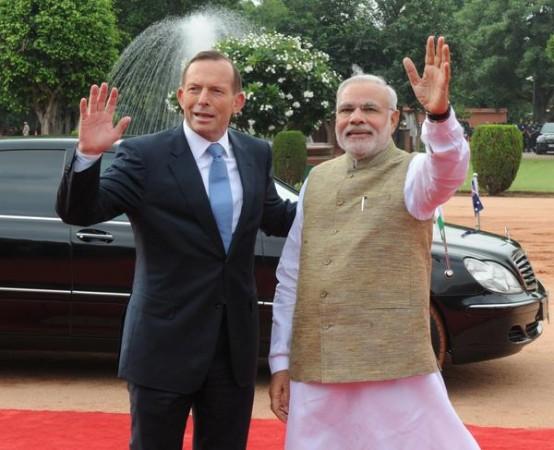 When Prime Minister (PM) Narendra Modi touches down in Australia ahead of the G-20 Summit scheduled for the weekend, he will be closing a long gap of almost three decades since an Indian prime minister visited the land down under.
The last Indian PM to visit Australia was Rajiv Gandhi in 1986.
Modi will engage in important deals with Australian Prime Minister Tony Abbott on trade, energy, and security, and five key MoUs are likely to be inked in the areas of social security, transfer of sentenced prisoners, counter-narcotics, culture and tourism, The Economic Times (ET) reported.
It will be the third time in three months that the two world leaders will meet, following Abbott's visit to India in September where the two nations struck a civil nuclear deal; and their interaction in Myanmar.
"The relationship has come of age in the past three decades as we aim to realise full potential in the bilateral ties in wide-ranging areas from trade to security. We want to make this visit as fruitful as possible," an Australian government official told ET.
One of the most crucial parts of Modi's trip would be the two-day G20-Summit in Brisbane on 15 and 16 November, and he is expected to engage in a series of bilateral meets, with leaders from France, Italy, Saudi Arabia, Turkey, Mexico, Argentina and Nigeria on the sidelines.
He will then address the special joint sitting of the Australian Parliament on 18 November.
But apart from business, Modi is scheduled to engage in several other high-profile events, including a lecture for about 500 of Australia's top CEOs in Melbourne.
Among those who are expected to attend include Anthony Joseph Pratt, Chairman and CEO of Pratt Industries and Global Chairman of Visy Industries; Andrew Mackenzie, CEO of BHP Billiton Ltd; Phil Edmands, managing director, Rio Tinto and Tony Cripps, CEO, HSBC's operations in Australia, NDTV reported.
Another important agenda on Modi's itinerary is his address to the Indian community - a grand event at the Allphones Arena in Sydney.
"The enthusiasm level is there in the whole of Australia, it will be a privilege to see him," Rashi Kapoor, host of PM Modi's Allphones Arena show, told ANI.
More than 20,000 people have already registered for the 17 November event, reminiscent of the PM's sold-out address at New York's Madison Square Garden during his US visit.
"We are very excited, especially the Indian community in Australia, this is the biggest welcome for any political leader from India. We are earning lot of respect because of him in Australia, we support and welcome him," said Rupesh Singh, CEO of the Education Center of Australia.
Here's a look at Modi's itinerary in Australia that he had shared on Twitter -
My Australia visit is both special & historic. It will be 1st bilateral visit to Australia by an Indian PM in 28 years.
In Australia I will meet the country's top leadership & am honoured to have been given an opportunity to address the Australian Parliament.
I am also eagerly looking forward to interacting with the Indian community in Australia. http://www.pmvisit.org.au

I look forward to working with G-20 leaders on important issues concerning the world, particularly those relating to the global economy.

Cricket is a shared passion of Australia & India. I thank PM @TonyAbbottMHR for hosting me at the iconic Melbourne Cricket Ground.

Both Australia & India fought shoulder to shoulder during WW1. I would be visiting the War Memorial with PM @TonyAbbottMHR.