Prime Minister Narendra Modi, on his current visit to the United States, urged the CEOs of various US-based companies to ramp up investments in India, even as he looked to offset the threat of terror in the country by bringing up the issue of surgical strikes.
During both his interactions in Washington DC on Sunday, June 25 — one with the top 20 CEOs of US companies and another with the Indian diaspora in the country — Modi painted a rosy picture of the country.
At the interaction with the CEOs, Modi pointed out various investment opportunities in India. He also stressed on how much India had pushed towards ease of doing business, and made the process much smoother than earlier.
CEOs applaud Modi
Among the examples of invest opportunities he gave was one in tourism through the development of hotels in Public-Private Partnership (PPP) model at 500 railway stations.
The CEOs, on their part, lauded Modi's initiatives like demonetisation and digitisation of the economy and the introduction of the Goods and Services Tax (GST).
They also expressed support for Make in India, Digital India, Start Up India and "other flagship initiatives of the government," according to Ministry of External Affairs (MEA) spokesperson Gopal Baglay.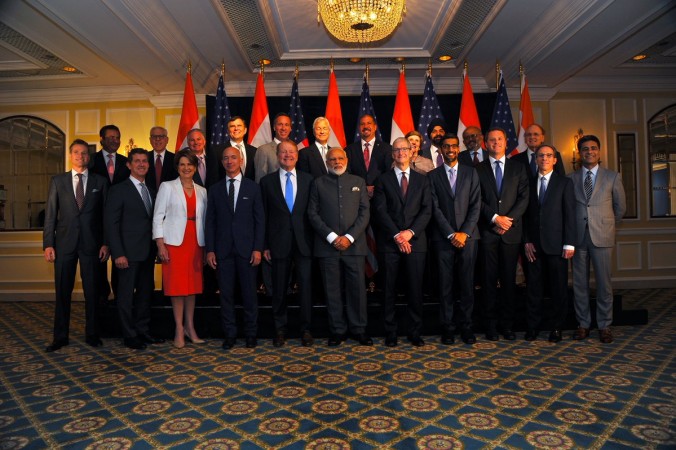 PM invites diaspora to invest
Following the interaction, the prime minister said in his speech to the Indian community in Washington: "The government in three years has been blemishless. Institutions and mechanisms are being changed to encourage honesty, while technology promotes transparency."
Encouraging them to bring more business to India, Modi said: "India is seen as a glowing and attractive FDI destination. The Indian diaspora abroad has possibilities and exposure. The diaspora has richness of experience and skills. I invite the diaspora to make use of the best opportunity to repay the debt to your country of birth."
Modi also praised the MEA and minister Sushma Swaraj for the work they were doing around the world. "India's MEA has touched new heights from the point of view of humanity. Around 80,000 Indians in distress have been rescued from different parts of the world in three years," he said.
On surgical strikes
Speaking on the counter-terrorism offensive carried out by India in Pakistan-occupied Kashmir in September 2016, Modi said: "The surgical strike demonstrated that India, which normally follows restraint, can also defend its sovereignty and ensure its security."
He added: "The world did not and cannot stop us. We have succeeded in conveying to the world the deleterious effects of terrorism on India."