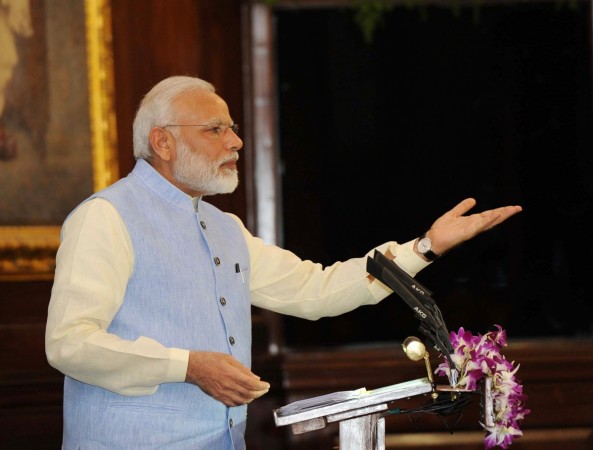 The Narendra Modi government is all set to boost strategic stake sales in at least five companies this year and has fast-tracked the process of valuation and final approvals as it looks to raise money from the disposal of assets.
The Centre, in order to attract potential bidders, will provide more land for future project expansion as a part of the package on offer in some cases. Advisers have been appointed for strategic disinvestment process and the companies include -- Scooters India, Bharat Earth Movers Ltd and Pawan Hans Ltd.
There are other companies lined up too, such as Central Electronics Ltd, Bharat Pumps & Compressors Ltd and Bridge & Roof Co. The government has also started the process of disinvestment for Air India, which is the flag carrier airline of India.
Most of the advisers are with SBI Capital Markets, Yes Bank and Resurgent India.
"Once cleared, we will invite bids for these firms," told a senior government official to the Economic Times.
The panel that will look at the stake sales consists of Finance Minister Arun Jaitley and Minister for Road Transport and Highways Nitin Gadkari besides other ministers.
Earlier this year, the Centre had also kick-started the process of selling a minority stake in seven state-owned enterprises in India known as Public Sector Undertakings (PSUs) including blue-chips like Indian Oil Corporation (IOC), Steel Authority of India Limited (SAIL) and NTPC formerly known as National Thermal Power Corporation Ltd.
Last month, reports suggested that the government also plans to offer stakes of up to 60 percent in oil and gas fields owned by the state energy companies that are already in production to private firms. This move could hit revenues of state explorers.
The decision, however, came after the government failed to draw investment from global oil majors in new fields.
The government had raised about Rs 19,157 crore so far its strategic sales. In all, it has targeted an earning of around Rs 72,500 crore through disinvestment in the ongoing financial year.
Of that target, the government is expecting to raise about Rs 15,000 crore through strategic sales, Rs 46,500 crore from minority stake sale and Rs 11,000 crore from the listing of PSU insurance companies.
"In this financial year, the government will probably achieve a much higher disinvestment figure than ever in history," Jaitley had said in an interview.