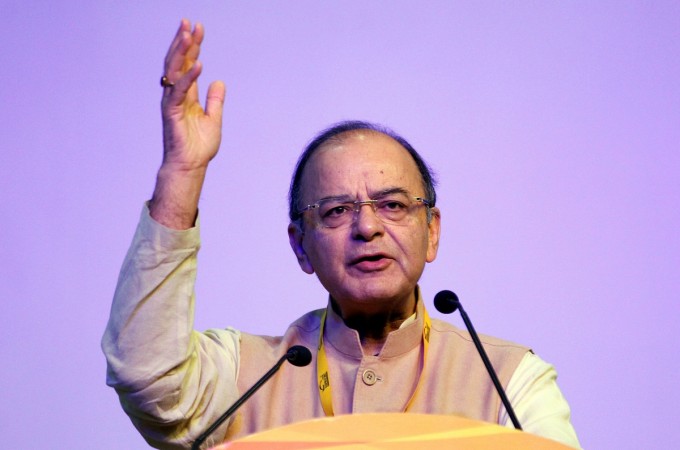 On the heels of reducing the Goods and Services Tax (GST) on a number of items, Union Finance Minister Arun Jaitley has said the government is working towards a single tax rate regime.
This new tax rate could be a mid-point between 12 per cent and 18 per cent, Jaitley has written in a blog post on simplifying taxes.
Currently, the lowest GST slab is 5 per cent and the highest 28. There are two slabs of 12 per cent and 18 per cent falling in between.
Prime Minister Narendra Modi said the other day that the government wanted most goods and services to fall into the 18 per cent slab so that the 28 per cent slab will become redundant.
The GST Council meeting over the weekend changed the tax slabs of 22 items of which seven were from the highest slab of 28 per cent. Estimates show the government would annually lose an estimated Rs5,500 crore because of the change of slabs.
Jaitley writes that the government is close to rationalizing the slabs now that the GST transformation is complete.
"Multiple slabs were fixed transiently to ensure the tax of no commodity goes up radically. This contained the inflation impact," Jaitley writes.
"A roadmap could well be to work towards a single standard rate instead of two standard rates of 12 per cent and 18 per cent. It could be a rate at some mid-point between the two."
The country should look towards having slabs of zero, 5 per cent and a single rate for luxury and sin goods (alcohol, drugs, cigarettes, etc.), he says.
Pointing to the current system, the minister said that among the items of common use only cement and auto parts are left in the 28 per cent slab. The government's priority would be to lower the tax slab of cement. The other building materials are now on the18 per cent and 12 per cent slabs.
Of the 1,216 commodities of common use, 183 are in the zero-tax category. Another 308 are on the slab attracting 5 per cent rate, 178 in the 12 per cent tax category, and the maximum number of 517 in 18 per cent category.
Describing the 28 per cent slab as the 'dying slab', the minister said only 28 items, including luxury and sin goods, auto parts, dishwashers, AC and cement currently remained in the highest slab.
With the goods and services tax (GST) transformation completed, we are close to completing the first set of rates of rationalisation i.e. phasing out the 28 per cent slab except in luxury and sin goods, he said.
He recalls that the standard pre-GST rate was 31 per cent on a large number of commodities.