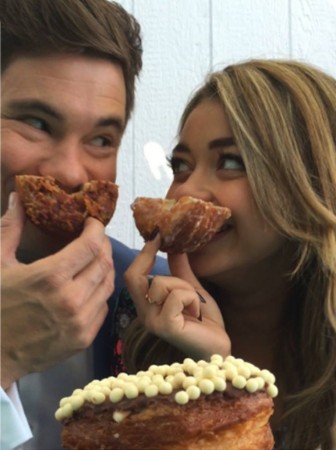 "Modern Family", after the tech-savvy season 6 episode 16 "Connection Lost", is coming back on 4 March with more machines, and this time the humans may not be on friendly terms with them after all.
Season 6 Episode 17 titled 'Closet? You'll Love It!' will have a special guest star, a drone, that spies on Gloria (Sofia Vergara) as she sunbathes. The title of the episode to be aired on Wednesday, is dedicated to her husband Jay (Ed O'Neill) and his closet business.
Jay, who runs a big closet empire, now with the assistance of his daughter Claire (Julie Bowen), has some important business decisions to make. When Jay finds out that one of his biggest competitors, most possibly 'Closets Closets Closets Closets', has released a catchy commercial, he decides to make an ad for his own business. However, problems arise when the father and daughter have some creative differences regarding the commercial.
While Claire and Jay fight out the differences in opinion, their better halves and sons are busy with another task- catching the peeping Tom that is spying on Gloria. Phill (Ty Burrell), his son Luke (Nolan Gould) and Gloria's son Manny (Rico Rodriguez) make it their mission to take out the drone and defend Gloria's honour.
Meanwhile, Lily (Aubrey Anderson-Emmons) is preparing for a school talent show, hoping to wow audiences with her singing. Cameron (Eric Stonestreet), however, isn't very sure it would be her talent that astounds the audiences, but rather a lack of it. Lily being tone deaf, makes Cameron more tensed about the talent show than she is.
Andy (Adam DeVine) and Hayley (Sarah Hyland), whose relationship is not yet defined by the creators, has been giving out the vibe of will they, won't they, and they if they will, when will they? Hayley had unwittingly convinced her family that she was eloping with Andy to Las Vegas in "Connection Lost". Paying heed to her sister Alex's (Ariel Winter) advice, she had kept her feelings for Andy under wraps till date.
However, she might find it difficult to do so after he gets rushed to the hospital with appendicitis on 4 March episode "Closets? You'll Love It!' Watch out for "Modern Family" episodes on Wednesdays on ABC at 9.00 pm (ET).