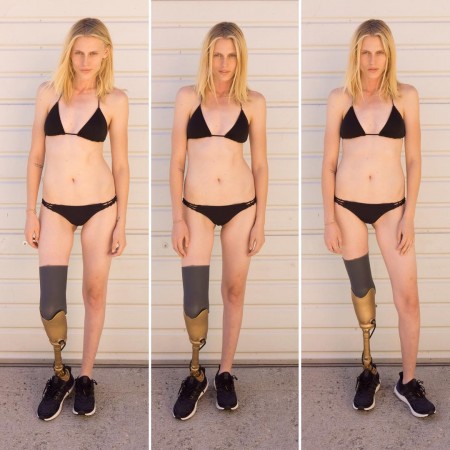 Model Lauren Wasser had to get her right leg amputated in 2012 due to 'Toxic Shock Syndrome'. And now, she has revealed that she is 'inevitably' going to lose the other leg too, which is why she's speaking out to warn women the dangers of the infection.
Lauren's infection resulted from using a super-plus tampon, despite having been frequently changing her tampon while experiencing symptoms of the infection – which started as flu and soon left her under a massive heart attack as the gangrene began consuming both of her legs.
Also read: Woman's hilarious poem dedicated to GoGirl urination device on Amazon goes viral
Eventually, this led to the below-knee amputation of her right leg and toe amputations on her left foot. And now that she's facing further amputations, the 29-year-old California-based model has decided to warn women and young girls about the risks of tampons, and also to promote transparency regarding feminine hygiene products.
"In a few months, I'm inevitably going to have my other leg amputated. There's nothing I can do about it. But what I can do is help make sure that this doesn't happen to others," Lauren wrote in an op-ed for InStyle magazine.
"My left foot has an open ulcer, no heel, and no toes," she mentioned. "I'm in daily excruciating pain." Due to the production of calcium in her body, bones continue to grow on her foot, which she has to shave down because it becomes unbearable to walk.
Among other issues, Lauren cannot wet her foot either, due to the open ulcer. She was only 24 when she had fallen ill for the first time due to the tampon infection.
Found unconscious, face down on her bedroom floor by the police who had been called for a wellness check by her mother, Lauren was said to be minutes from death at that point in time. And now, using a gold prosthetic leg, Lauren's mission is to save other women from the same fate.
By pushing legislation for National Institutes of Health, Lauren is advocating for a bill called the Robin Danielson Act, named after a woman who died from TSS in 1988, which requires feminine hygiene product companies to disclose exactly what is in their products and what the long-term health effects are.
Having spoken publicly about her condition multiple times and also given a TED talk to share her story, Lauren hasn't let TSS stagnate her modelling career. She has landed assignments like Nordstrom's holiday shoe collection and Kenneth Cole's Courageous Class campaign also.
Lauren's condition - Toxic shock syndrome – is extremely rare and commonly misdiagnosed too as the symptoms resemble other more common illnesses. From high fever, low blood pressure, vomiting, confusion and seizures, this occurs mostly among women using tampons.
Even though each year TSS affects one in 100,000 women, the disease had first made headlines in the late 1970s and early 1980s following the death of multiple women using a brand of super absorbent tampons, which were later on banned.