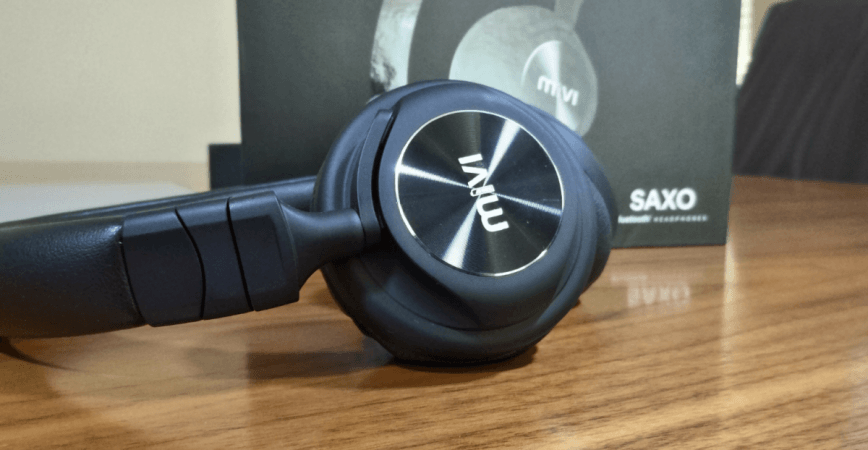 India, being a cultural hub for music and movies, has become multi-billion dollar business arena for headphone makers. You can see people everywhere while travelling to work and going on long distance on a plane to overseas, all hooked to either to their phones or laptops or tablets through earphones.
Lots of brands – big and small, foreign and local players – are fighting for space in the highly competitive Indian market. While foreign players like JBL, Bose, Sony, Apple and others have a created niche premium segment catering to the affluent class, the local manufacturers are doing brisk business with affordable headsets, but most often than not, they compromise on sound quality and also the build material. But one player Mivi is looking to break out of that shadow with their new Saxo wireless Bluetooth headsets.
The Mivi Saxo costs Rs 4,999 (MRP) but can be bought for much less on e-commerce sites. I have been using the review unit for a couple weeks and here's my take on it.
Design and build quality:
In this aspect, Mivi Saxo surprised me with the overall exterior look and the feel. For its price, the ergonomic design is futuristic; it comes with sturdy polycarbonate headband and foldable ear-cups, which comes in handy while storing it into the space-starved backpacks. It can also extend up to a couple more inches as well so that it can be adjusted to fit on to the head comfortably.
Even the faux leather-based soft padding on the ear-cups, even on top and the underside of the holder is of really premium quality.
User-interface:
Getting started with Mivi Saxo is very simple. The power button and volume rockers (+ & -) on the right ear-cup are ergonomically placed on the opposite sides and easily accessible to the fingers. If you long press the power button, it activates the Bluetooth connectivity and will appear on smart devices screen and wirelessly gets connected within a minute. It also comes with voice prompt feature, which tells the headphone is turned on or switching off.
It also comes incorporated with a mic and if you get a call on the phone with Saxo connected to it, you can just tap the multifunctional power button and start the conversation. To adjust volume, owners can long press the rockers to go up or lower it. By tapping just once, it will help the user go to the next or previous track. Users can also invoke Siri on iOS just by tapping volume rocker (-) twice in quick succession.
Another interesting aspect of the Mivi Saxo is that when the battery is fully drained, users can just plug its 3.5mm AUX jack to the smart device and continue listening to the music or movie on a laptop.
Sound quality:
I tried listening to all genres of music including pop, carnatic, metal, blues and also even watched movies wearing it. Mivi Saxo, except the hard metal music, it performed decently for other genres in terms of audio quality under highest volume settings. But, it advisable for users not to listen audio in high volume, as there are risks of permanent hearing problems.
Final thoughts:
Mivi Saxo ticks all the boxes be it premium building material, sound quality and the features which impressed me is the ergonomic design and the long-lasting battery. It offers much more than its price. If you are looking for a good pair of headphone that does not cost a bomb, then Mivi Saxo is a smart buy.
It is available on Amazon India, Flipkart and official Mivi store for Rs 2,999 in Jet black and Pearl white colour options. The former is offering a cash discount for users paying through Visa card.
Pros:
Exceptional design
Good build quality
Long lasting battery life (more than 14 hours) on wireless mode
Decent sound output for its price
Cons:
There is not much to complain other than the fact the faux leathers on the ear cups tend to induce sweat during a long session. But, it's a common issue faced by all leather-based headphones be it big or small brands. In a tropical climate ours in India, there is no escaping that.
Stay tuned. Follow us @IBTimesIN_Tech on Twitter and on Google News for latest updates on tech products.