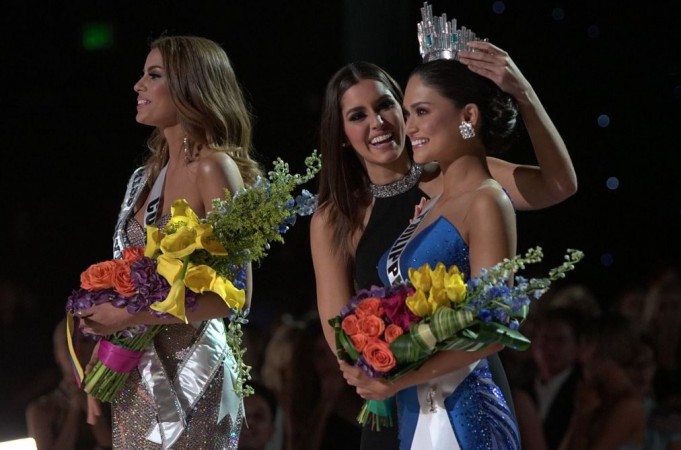 Speculations were rife that Bruno Mars would perform at the star-studded grand finale of the 65th Miss Universe beauty pageant. However, the recent reports suggest that he will not be performing on the grand finale night.
Also Read: Miss World 2016 winner is Miss Puerto Rico Stephanie Del Valle
Tourism Undersecretary Kat de Castro in a radio interview confirmed that the singer will not be performing, as he is busy with his world tour.
"He really wanted to come. It's just that his agent kept on reminding him that he has to have proper rehearsals for the world tour," de Castro said, according to Sun Star.
Tourism Secretary Wanda Teo earlier said that the grand finale of the Miss Universe 2016 would see several big Filipino celebrities performing. However, he did not confirm the name of any celebrity.
The Miss Universe 2016 grand finale will be aired live on January 29. As many as 86 contestants will compete to win the Miss Universe 2016 crown.
Check out the final contestant list:
Miss Albania Lindita Idrizi
Miss Angola Luísa Baptista
Miss Argentina Estefania Bernal
Miss Aruba Charlene Leslie
Miss Australia Caris Tiivel
Miss Austria Dajana Dzinic
Miss Bahamas Cherell Williamson
Miss Barbados Shannon Harris
Miss Belgium Stephanie Geldhof
Miss Belize Rebecca Rath
Miss Bolivia Antonella Moscatelli
Miss Brazil Raissa Santana
Miss British Virgin Islands Erika Creque
Miss Bulgaria Violina Ancheva
Miss Canada Siera Bearchell
Miss Cayman Islands Monyque Brooks
Miss Chile Catalina Paz Cáceres
Miss China Li ZhenYing
Miss Colombia Andrea Tovar
Miss Costa Rica Carolina Duran
Miss Croatia Barbara Filipovic
Miss Curaçao Chanelle de Lau
Miss Czech Republic Andrea Bezdekova
Miss Denmark Christina Mikkelsen
Miss Dominican Republic Rosalba "Sal García" Abreu
Miss Ecuador Connie Jiménez
Miss Finland Shirly Karvinen
Miss France Iris Mittenaere
Miss Georgia Nuka Karalashvili
Miss Germany Johanna Acs
Miss Great Britain Jaime-Lee Faulkner
Miss Guam Muneka Joy Cruz Taisipic
Miss Guatemala Virginia Argueta
Miss Guyana Soyini Fraser
Miss Haiti Raquel Pelissier
Miss Honduras Sirey Moran
Miss Hungary Veronika Bódizs
Miss Iceland Hildur Maria
Miss India Roshmitha Harimurthy
Miss Indonesia Kezia Warouw
Miss Israel Yam Kaspers Anshel
Miss Italy Sophia Sergio
Miss Jamaica Isabel Dalley
Miss Japan Sari Nakazawa
Miss Kazakhstan Darina Kulsitova
Miss Kenya Mary Esther Were
Miss Korea Jenny Kim
Miss Kosovo Camila Barraza
Miss Malaysia Kiran Jassal
Miss Malta Martha Fenech
Miss Mauritius Kushboo Ramnawaj
Miss Mexico Kristal Silva
Miss Myanmar Htet Htet Htun
Miss Namibia Lizelle Esterhuizen
Miss Netherlands Zoey Ivory
Miss New Zealand Tania Dawson
Miss Nicaragua Marina Jacoby
Miss Nigeria Unoaku Anyadike
Miss Norway Christina Waage
Miss Panama Keity Drennan
Miss Paraguay Andrea Melgarejo
Miss Peru Valeria Piazza
Miss Philippines Maxine Medina
Miss Poland Izabella Krzan
Miss Portugal Flávia Brito
Miss Puerto Rico Brenda Jimenez
Miss Romania Teodora Dan
Miss Russia Yuliana Korolkova
Miss Sierra Leone Hawa Kamara
Miss Singapore Cheryl Chou
Miss Slovak Republic Zuzana Kollarova
Miss Slovenia Lucija Potočnik
Miss South Africa Ntandoyenkosi Kunene
Miss Spain Noelia Freire
Miss Sri Lanka Jayathi De Silva
Miss Sweden Ida Ovmar
Miss Switzerland Dijana Cvijetic
Miss Tanzania Jihan Dimack
Miss Thailand Chalita Suansane
Miss Turkey Tansu Cakir
Miss U.S. Virgin Islands Carolyn Carter
Miss Ukraine Alena Spodynyuk
Miss Uruguay Magdalena Cohendent
Miss USA Deshauna Barber
Miss Venezuela Mariam Habach
Miss Vietnam Le Hang