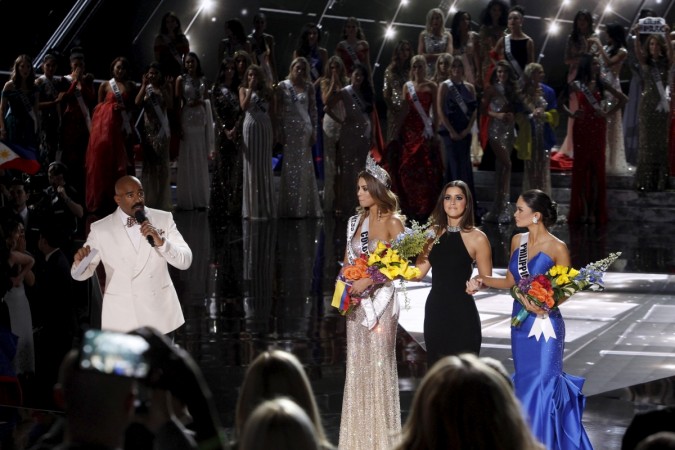 It is confirmed. The much-awaited beauty pageant – Miss Universe 2016 – will be held in Manila, Philippines, in January 2017. Tourism Secretary Wanda Teo putting a rest to all the rumours confirmed that the next Miss Universe will be crowned in the country.
Rumours were doing the rounds that the venue of the 65th edition of the Miss Universe beauty pageant will be changed. There was also a petition asking to change the venue of Miss Universe 2016. However, the tourism secretary dismissed all the reports.
In a press conference held last week, Teo said that the coronation ceremony will be held at the Mall of Asia Arena in Manila on January 30.
"After all that's been said and done, I happily welcome on behalf of the DOT the latest announcement of the Miss Universe Organization (MUO) through Pia Wurtzbach that finally, the Philippines will indeed play host to the much awaited 2016 Miss Universe pageant," Teo said.
"The Miss Universe 2016 in Manila is brought to you by the DOT, MUO, LCS Group of Companies ...in partnership with Okada Manila, SM Group of Companies, Solar Ent Corp, our broadcast partner."
"This is one proud moment for all of us Filipinos to be a witness to the reigning Miss Universe Pia Wurtzbach of Cagayan De Oro as she takes her final walk and passes her crown in her home country, the Philippines."
"We are counting on you, our media partners, event partners, sponsors, to join us as we welcome the Miss Universe candidates, their followers, and their supporters from all over the world. Together, let us show them the soul of the Philippines, and our warm Filipino hospitality," Teo said.
However, it is not confirmed whether Steve Harvey will host the Miss Universe this year or not. In July, Teo had said that Philippines President Rodrigo Duterte is not happy with Harvey for hosting the show. Last year, Harvey mistakenly announced Miss Philippines as the runner-up instead of the winner and this has not gone down well with Duterte.