The death of singer Seo Min-woo, popularly known as Minwoo, has left the South Korean industry devastated. The 33-year-old singer died of cardiac arrest on March 25 at his home in Gangnam, South Korea.
Minwoo was among the few South Korean celebrities who flaunted their pets on Instagram and his last three posts were dedicated to his beloved cat Simba. The last post, which was shared on March 23, features the video of Simba playing on his bed.
On March 21, he shared a photo of him shirtless with his cat sleeping on him. "Oh, so happy moments," he captioned the image. The singer also celebrated the birthday of Simba earlier this month and took to Instagram to share the news.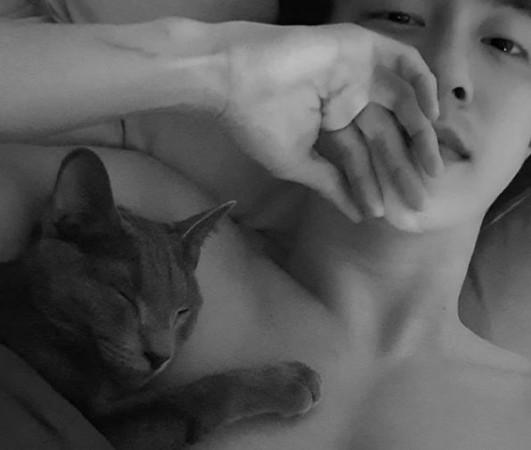 "Simba birthday photos we first met that day heh continue to grow healthily well, let me always I love you," he captioned the image.
Minwoo, the leader of the boy band 100% died, Sunday night at his home. His agency TOP Media in a statement confirmed the news.
"This is TOP Media.We apologize for delivering this sudden and heartbreaking news. Our artist 100% Minwoo left our side on March 25. He was found without a pulse at his home in Gangnam. 911 first responders arrived at the scene but he was declared dead.
"His family, 100% members, TOP Media colleague artists, and staff members are all grief-stricken and mourning due to the unexpected sad news. As the oldest member of his team, Minwoo lead his members and truly loved fans as he was warm-hearted
"Because everyone who knows Minwoo is aware of his kindheartedness and faithfulness, the sadness is even greater. His funeral will be carried out quietly in respect to his family's wishes. We express our deepest condolences for his final path."