Former UFC women's bantamweight champion Miesha Tate shared the photo of her baby bump on Friday. The 31-year-old retired Mixed Martial Arts (MMA) star had revealed her pregnancy in January.
Miesha is regarded as one of those elite personalities who gave the women's MMA a major impetus. The likes of Ronda Rousey, Cris Cyborg and Gina Carano also make the list.
Miesha is nicknamed 'Cup Cake' and thus, fans have been pouring congratulatory messages and giving their choicest of blessings to the new 'cup cake', who will be occupying a major place in the heart and home of Miesha as well as her boyfriend Johnny Nunez.
"Awww yay! Congratulations girl- your little baby bump is super adorable!! Sending positive vibes for a healthy pregnancy [sic]," wrote a Twitter user who received a 'thank you' message as well from the veteran women's MMA fighter.
"you're going to be a great mother! Congratulations on the new member to your family [sic]," wrote an Instagram user.
Best wishes from India.... New cup cake

— Ratheesh Roy (@ratheshroy) February 24, 2018
After Miesha announced her pregnancy earlier this, some UFC fans joked on MMA forums and asked curiously who the actual dad of the newborn was. The ex-Strikeforce champion was previously in a relationship with UFC bantamweight fighter Bryan Caraway.
However, she left almost everyone stunned after announcing her relationship Jonathan 'Johnny Boy' Nunez, a lightweight MMA fighter.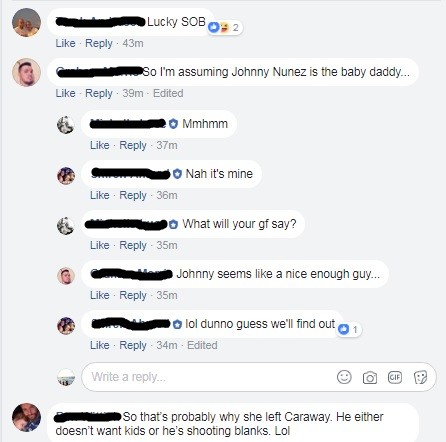 Miesha Tate's MMA career highlights
Ronda Rousey has played an integral part in the MMA career of Miesha Tate. They clashed inside the octagon in March 2012 at Strikeforce in the first of their fights. The two leading MMA women clashed again at UFC 168 in December 2013.
Although Ronda won both the fights via submission, fans have wanted to see the trilogy fight but that might never happen as Miesha retired from the combat sport in November 2016 after her UFC 205 defeat against Raquel Pennington.
Ronda, meanwhile, is set to sign her WWE contract at Elimination Chamber 2018.
Miesha became the UFC women's bantamweight champion after defeating Holly Holm at UFC 196 in March 2016.