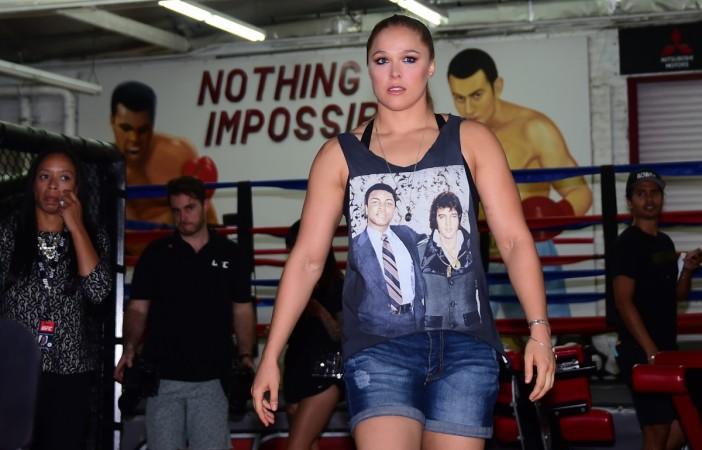 The WWE Royal Rumble 2018 pay-per-view (PPV) event ended on a surprising and interesting note as it saw the arrival of mixed martial arts (MMA) veteran and former UFC women's bantamweight champion Ronda Rousey.
The 30-year-old came out in the middle of the ring following Asuka's victory in the first-ever Women's Royal Rumble match on Sunday January 28 at the Wells Fargo Center in Philadelphia.
Ronda pointed her fingers straight to the big WrestleMania 34 logo inside the stadium, leaving fans curious. Asuka had just won the battle royal match and she has the chance to meet either Alexa Bliss or Charlotte Flair for the Raw Women's Championship or the SmackDown Women's Championship title respectively at WrestleMania 2018.
Ronda's arrival following the end of the battle royal match has got everyone talking about what might happen next.
For the most successful UFC women's bantamweight champion meanwhile, it may be the end of the road in MMA. As per several reports, Ronda has signed a long-term contract with the WWE.
"This is my life now. Yeah, they have first priority on my time for the next several years," she told ESPN in an interview after the end of Royal Rumble 2018. "This is not a smash and grab, this is not a publicity stunt."
Ronda paid tribute to WWE legend 'Rowdy' Roddy Piper in the grand WWE event on Sunday by wearing that iconic jacket made famous by the former pro wrestler.
"This [Being in the WWE] has been a dream of mine since I started MMA and I had asked Rowdy Roddy Piper whether I could borrow his name," said Ronda in an interaction with WWE.com.
"His son Colton Toombs was kind enough to fly to Vegas to bring me his [dad's] jacket. I wouldn't have been here if it wasn't for him [Roddy Piper]. He accomplished so many things. I wouldn't have been in the UFC without him.
"I learnt a lot from him and used to do what I had seen him do. From learning how to promote fights and getting into it. I'm a better person because of him and am so grateful to have that opportunity to wear his jacket.
"I think that's a big fat hint that i will be at WrestleMania," Ronda added, on her surprising Royal Rumble appearance on Sunday.