Microsoft's much publicized late-fall October event in the New York City concluded on a high note on Wednesday, despite the highly anticipated flagship Surface phone's making a no-show.
Microsoft unveiled three new products, which included two hardwares—Surface Studio, a powerful Desktop series and a new generation Surface Book and one, software related upgrade dubbed as the 'Windows 10 Creators Update'.
Surface Studio:
Previously, Surface Studio was speculated to be an interface for IoT (Internet-of-Things)-based smart-home appliance, but it is actually Microsoft's first fully-branded desktop. Like the Surface series laptops, Surface Studio flaunts elegant design language and also is flexible enough to make it stand upright and use it as a normal desktop or lay it on its back up to 20-degree angle, the same angle as a standard drafting board, making it ideal for sketching, writing and designing, like we do on all-in-one laptops.
It also boasts incredible 28-inch screen having 4.5K resolution-based PixelSense display technology, which is said to deliver 63 percent more pixels than a state-of-the-art 4K TV. It is compatible with Pen, touch and Surface Dial.
[Note: Surface Dial is a new peripheral designed in a shape of a hockey puck, which has to be placed right on the Surface Studio screen. It integrates with Windows 10 to work with Surface for a faster and more intuitive way to scroll, zoom and navigate. It is sold separately for $99.99 a piece]
Under-the-hood, it houses top-of-the-line hardware including the sixth generation Intel Core processors backed by NVIDIA GeForce GPU, which guarantee smooth and immersive graphics performance and the power to run professional programs such as Siemens' NX software and 3D modelling firmware.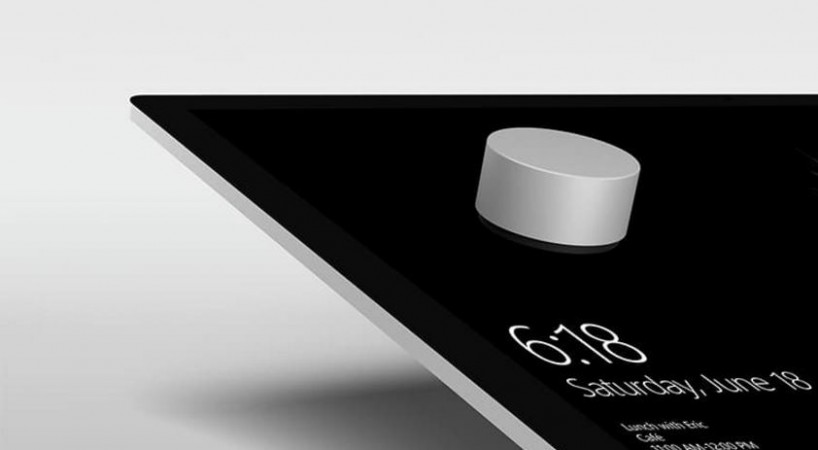 New Surface Book:
The new 2016-series Surface Book keeps the design aesthetics of its sleek predecessor, but comes with major upgrades in terms of processor speed, battery and performance. It is boasts the sixth generation Intel Core i7 processors and pack more than twice the graphics processing power as the original Surface Book and also 16 hours of battery life.
With such high-performance configuration, Surface Book is now allows users to simulate 3-D CAD models with thousands of parts. Designers and developers can also render large files quickly, and gamers can play power guzzling graphic-rich games without worrying about any lag.
Both the Surface Book and Surface Studio are available with three configuration options, for pre-order in US and some select markets from October 26 onwards [Price and configuration details below].
Windows 10 Creators Update:
Last, but not the least, Microsoft Windows 10 upgraded OS dubbed as the Creative update was announced at the Microsoft event.
The new Windows 10 Creators Update comes with advanced 3D paint application, enhanced Edge browser, new MyPeople app, which allows users to pin their favourite contacts to the Windows task bar and easily drag and drop any document, photo or video right on top of the contact for easy sharing. Users will get unique notifications, called "Shoulder Taps," from the pre-selected people and easily open and see an integrated view of emails, IMs, shared documents and more, all in one place.
The biggest improvement is that the new Windows 10 Creators update will allow gamers to create and enjoy live game streams and customized eSports tournaments on the multiplayer network including Xbox Live. It is a free software update and will be rolled out soon.
Watch this space for more updates.
Models
Microsoft Surface Studio
Microsoft Surface Book
Display
28-inch PixelSense screen

Resolution: 4500 x 3000p
Pixel density: 192 dpi (dots per inch)
Color settings: Adobe sRGB, DCI-P3 and Vivid Color Profiles, Individually color calibrated
Touch: 10-point multi-touch
Aspect Ratio: 3:2
Surface Pen compatible
Zero Gravity Hinge

13.5-inch PixelSense display

Resolution: 3000 x 2000p
Pixel density: 267 ppi (pixels per inch)
Aspect ratio: 3:2
Touch: 10 point multi-touch

OS
Latest Windows 10 series OS
Windows 10 Pro with
Office 365 30-day trial
Processor
Quad-core 6th Gen Intel Core i5 or i7
6th Gen Intel Core i7
Graphics
NVIDIA GeForce GTX 965M 2GB GPU GDDR5 memory/ NVIDIA GeForce GTX 980M 4GB GPU GDDR5 memory
NVIDIA GeForce GTX 965M 2GB GDDR5 memory
RAM
8GB/16GB/32GB
8GB/16GB
Storage
Rapid hybrid drive- 1TB/2TB
Solid state drive (SSD) options - 256GB/512GB/1TB
Cameras, video and audio
Camera:

Windows Hello face sign-in camera having 5.0MP front-facing camera with 1080p HD video recording

Audio:

Dual microphones
Stereo 2.1 speakers with Dolby Audio Premium
3.5mm headset jack

Camera:

Windows Hello face sign-in camera (front-facing)
5.0MP front-facing camera with 1080p HD video
8.0MP rear-facing autofocus camera with 1080p HD video

Audio:

Stereo microphone
Stereo speakers with Dolby audio Audio Premium

Battery
----------
Up to 16 hours of video playback
Wireless connectivity
Wi-Fi: 802.11ac Wi-Fi wireless networking, IEEE 802.11 a/b/g/n compatible
Bluetooth: Bluetooth 4.0 wireless technology
Xbox Wireless built-in
802.11ac Wi-Fi wireless networking; IEEE
802.11a/b/g/n compatible
Bluetooth 4.0 wireless technology
Ports

4 USB 3.0
Full-size SD card reader (SDXC compatible)
Mini
Displayport
3.5mm headset jack
Compatible with Surface Dial onscreen interaction

Two full-size USB 3.0
Full-size SD card reader
Surface Connect
Headset jack
Mini Displayport

Add-ons
Security:

TPM chip for enterprise security
Enterprise-grade protection with Windows
Hello2 face sign-in

Physical buttons:

Volume and power
Surface Pen
Surface Keyboard
Surface Mouse

Casing- Magnesium;
Color- Silver;
Physical buttons- Volume, PowerSecurity- TPM chip for enterprise security
Sensors
------------

Ambient light sensor
Accelerometer
Gyroscope
Magnetometer

Dimensions
Display:

637.35 x 438.90 x 11.4 mm

Base:

250.00 x 220.00 x 32.20 mm

312.3 x 232.1 x 13.0 - 22.8 mm
Weight
9.56kg
1.65kg
Package contents

Surface Studio
Surface Pen
Surface Keyboard
Surface Mouse
Power cord with grip-release cable

Surface Book
Surface Pen
Power Supply
Quick Start Guide
Safety and warranty documents (one year limited hardware warranty)

Price

Model 1: 1TB storage + Intel Core i5+ 8GB RAM+ 2GB GPU- $2,999 (€2,749/Rs. 2,00,678)
Model 2: 1TB storage + Intel Core i7+ 16GB RAM+ 2GB GPU-$3,499 (€3,208/Rs. 2,34,135)
Model 3: 2TB+Intel Core i7+ 32GB+4GB GPU-$4,199 (€3,850/Rs. 2,80,976)

Model 1: 256GB storage+ Intel Core i7+ 8GB RAM+ dGPU- $2,399 (€2,199/Rs. 1,60,528)
Model 2: 512GB storage+ Intel Core i7+ 16GB RAM+dGPU-$2,799 (€2,566/Rs. 1,87,295)
Model 3: 1TB+Intel Core i7+ 16GB+dGPU-$3,299 (€3,024/Rs. 2,20,752)