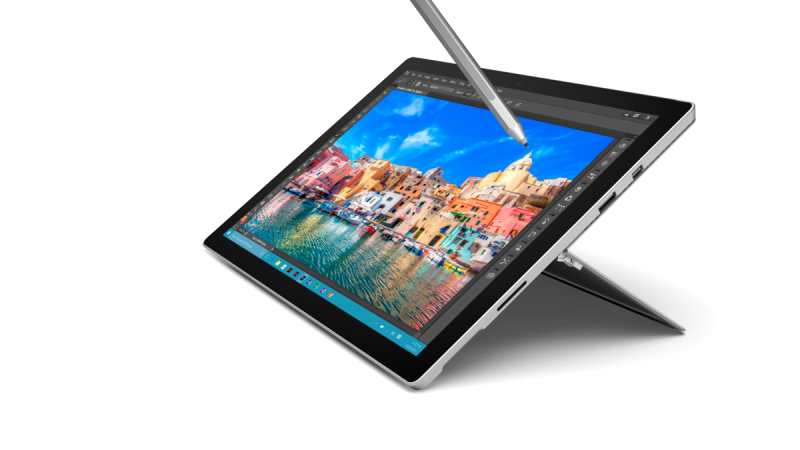 Images of long-rumoured Surface Pro 4 successor have leaked days ahead of Microsoft's event in Shanghai, China on May 23.
Reliable Twitter spy Evan Blass (aka @evleaks) has got his hands on the Microsoft 2017-series hybrid tablet-cum-laptop's photos revealing the device will have almost the same design language as its predecessor, but the internal hardware is expected to undergo an overhaul in terms of processor, RAM capacity and also colourful matching accessories, especially the Pen (stylus) and smart cover-cum-keyboard. The phome may come in blue, black, silver white and maroon colours.
Also read: Windows 10 S announced: Three things you should know about Microsoft's new laptop OS
The new device will bear the same Surface Pro 4 moniker, most probably with 2017 series tag, not Surface Pro 5, as previously rumoured.
It looks like Microsoft is taking a leaf out of rival Apple's book, which launches S series mobiles with upgraded internal hardware, while keeping the design language intact.
Though Blass has not been able to get internal specifications of the Surface Pro 4 (2017), we believe it is most likely to feature Intel's 7th generation Core i5 and Core i7 CPU options with 4GB RAM+128GB storage, 8GB RAM+256GB storage and 16GB RAM+500GB storage sub-variants much like recently unveiled Surface laptop.
Also read: Microsoft EDU May event highlights: Surface laptop, Windows 10 S, Mixed Reality and more
Watch this space for latest news on Microsoft products.