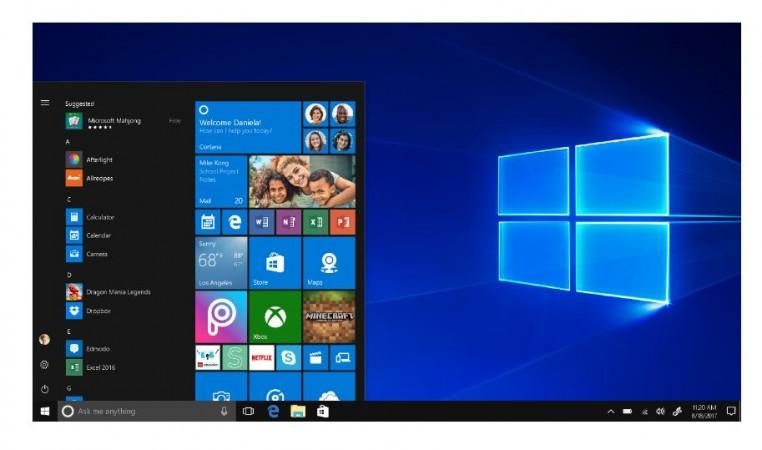 Earlier in the week, American technology major, Microsoft, during the EDU May event launched the new Windows 10 S operating system, which claims to offer all the Windows 10 Pro features, and yet be able to run on low-end devices.
To provide better perspective, we have briefed three key aspects that make Windows 10 S unique.
Also read: Microsoft EDU May event highlights: Surface laptop, Windows 10 S, Mixed Reality and more
Streamlined with extra long battery life:
Prior to the launch of Windows 10 S, rumours were rife that the upcoming OS will be a light version of Windows 10 Pro, but in reality, they both have same UI and features. Key difference is that Windows 10 S is optimised to consume less power to perform tasks and thereby make the laptop's battery last long.
Microsoft also guarantees that Windows 10 S-based device will boot within 15 seconds and are capable of playing high resolution videos for close to 14.5 hours when fully charged.
Requires bare minimum hardware:
Another great aspect of the Windows 10 S, is that it does not require heavy system configuration. It is optimised to run PCs with bare minimum specifications (4GB+32GB) and consume less power.
This apparently allows partner PC-makers such as Samsung, Acer and HP, among others to manufacture affordable laptops as cheap as $189 (around €173/Rs. 12,120), which can be made available to children.
This will greatly benefit in developing regions like India and Africa, where respective governments are taking steps to bring advanced computer education to underprivileged kids in rural areas.
Secure, but with some drawbacks:
Microsoft says that all the devices, which run Windows 10 S will not have to worry about virus and any other cyber threats, as it has incorporated high-level security in to the OS including proprietary Windows Defender and all the features of the previous Windows 10 OS edition.
But, the sad thing is that Microsoft, in a bid to control infiltration of malwares in to the Windows 10 S devices, it has disabled option to install third-party apps.
Users will be able to install apps, which are available on Windows store only, as it assures of Microsoft-verified security and integrity.
Further, Microsoft has made the Edge as the default browser with Bing search engine. This means users cannot install Mozilla Firefox or the Google Chrome or any other browser application on their Windows 10 S device.
Only solace is that users can avail the services of Google Search or Duck Duck Go or any other search engine provided they type the name on the Bing search.
Going by the features, it looks like Windows 10 S is a much improved version of Microsoft's Windows 8 RT, which failed miserably due to lack of access to key services.
Now, Windows 10 S users will not have worry much, as Microsoft has covered almost all the bases that ensures pleasant user-experience. It is also offering free one-year subscription of Microsoft Office 365 Suite and 1TB OneDrive cloud storage.
If not satisfied with the Windows 10 S, users can upgrade to Windows 10 Pro for a payment of $49 (approx. €45/Rs. 3,145).
Check out Microsoft's Windows Mixed Reality Demo:
In future, Microsoft also plans to bring Mixed Reality features to Window 10 S via update. If the devices boasts required hardware, users will be to see 3D content through PC screen as mixed reality, using a simple RGB camera.
Microsoft in association with Pearson will offer secondary- and university-level curriculum in health, commerce, history and STEM, on all Windows Mixed Reality compatible devices before the start of the academic year 2018.