Software technology behemoth, Microsoft on Tuesday unveiled a slew of products ranging from hardware such as the Surface laptop series to mixed reality head gear for children and educators, and brand new software Windows 10 S, in the New York city.
New Microsoft Surface Laptops:
The new Surface laptop flaunts slim and light anodised metallic body and features 13.5-inch screen with PixelSense Display technology, 3:2 display aspect ratio, edge-to-edge Corning Gorilla Glass 3 shield and Alcantara-type keyboard, which resists spills and absorption.
Under the hood, it houses Intel's 7th Gen Core i5/i7 processor powered special Windows 10 S OS with 4GB/8GB/16GB RAM and 128GB/256GB/512GB SSD (Solid State Storage). Its prices start at $999 (roughly €913/Rs. 64,076). It is available for pre-order in 20 select markets -- U.S., Australia, New Zealand, Austria, Belgium, Denmark, Finland, France, Germany, Ireland, Italy, Luxembourg, Netherlands, Norway, Poland, Portugal, Spain, Sweden, Switzerland and the United Kingdom at Microsoft Store, microsoftstore.com and BestBuy.com from May 2 onwards and hit stores on June 15. It is expected to be made available in China and other regions later this year. Complete price details below.
Microsoft Windows 10 S:
Microsoft's new OS Windows 10 S is developed with two key factors—security and superior performance—kept in mind. Another aspect of the Windows 10 S, is that it does not require heavy system configuration. It is optimised to run PCs with bare minimum specifications (4GB+32GB) and consume less power. This apparently allows partner PC-makers such as Samsung, Acer and HP, among others to manufacture affordable laptops as cheap as $189 (around €173/Rs. 12,120).
Only qualm is that Windows OS 10 S powered devices will only be able to run apps, which are available on Windows store only. In Microsoft's defence, it says that applications that are delivered via the Windows Store are assured of Microsoft-verified security and integrity.
Further, Microsoft Edge will be the default browser, as the company claims it to be more secure than Chrome or Firefox. It also comes with proprietary Windows Defender and all the security features of the previous Windows 10 OS edition.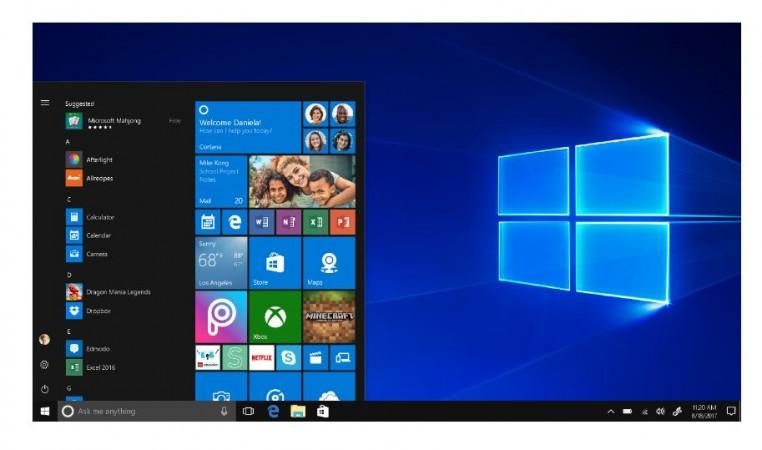 Microsoft Windows Mixed Reality:
In bid to provide impressive tutorial for children to help them better understand science and other topics, Microsoft has announced Windows Mixed Reality programme, where-in it allows users to see 3D content through PC screen as mixed reality, using a simple RGB camera.
Microsoft in association with Pearson will offer secondary- and university-level curriculum in health, commerce, history and STEM, on all Windows Mixed Reality compatible devices before the start of the academic year 2018.
Microsoft's special offers for teachers and students:
At the Microsoft EDU event, the company announced free software and training package for education institutions.
To make it easy and affordable to access Windows 10, Office 365 for Education with Microsoft Teams, and Minecraft to the classroom, Microsoft is offering the following to the teachers and students:
Free one-year subscription to PCs
Free Windows 10 S for all schools on their current Windows Pro PC
Free Microsoft Office 365 for Education with Microsoft Teams
Free trial of Microsoft Intune for Education
Microsoft Surface Arc Mouse:
Microsoft also unveiled new proprietary PC peripheral dubbed as the Surface Arc mouse. It is ergonomically designed keeping human hand comfort in mind. It is slim, light and portable, capable of snapping flat to fit easily in the bag. It costs $79.99 (approx. €73/Rs. 5,128).
Key specifications of Microsoft Surface laptop:
Model
Microsoft Surface laptop
Display
13.5-inch full HD LCD screen with PixelSense Display technology and edge-to-edge Corning Gorilla Glass 3 shield

Resolution: 2256 x 1504 (201 PPI: Pixels Per Inch)
Aspect ratio 3:2
3.4 million pixels
Surface Pen enabled
Surface Dial off-screen interaction
Touch: 10-point multi-touch

OS
Microsoft Windows 10 S
Processor
7th Gen Intel Core i5/ 7th Gen Intel Core i7
RAM + storage (SSD: Solid State Drive) configuration
Intel Core i5:

Model 1: 4GB RAM+ 128GB storage
Model 2: 8GB RAM+ 256GB storage

Intel Core i7:

Model A: 8GB RAM+256GB storage
Model B: 16GB RAM+512GB storage

Graphics
Intel HD 620 (for Intel core i5)
Intel Iris Plus Graphics 640 (for Intel core i7)
Camera
720p HD camera (front-facing) with Windows Hello face sign-in camera feature
Battery
Up to 14.5 hours video playback6
Connectivity Ports

Headset jack
mini DisplayPort
3.5mm AV
SurfaceConnect
Compatible with Surface Dial off-screen interaction

Wireless connectivity
Wi-Fi: 802.11ac Wi-Fi wireless networking, IEEE 802.11 a/b/g/n compatible
Bluetooth: Bluetooth 4.0 LE, Also compatible with Surface Pen
Audio
Stereo microphones and Omnisonic speakers with Dolby Audio Premium
Add-ons
One-year subscription to Office 365 Personal and 1TB of free storage on OneDrive
Dimensions
12.13" x 8.79" x .57" (308.02 mm x 223.20 mm x 14.47 mm)
Weight
2.76 lbs (1.25 kg)
Exterior

Casing: Aluminum
Colors: Burgundy, Platinum, Cobalt Blue, Graphite Gold2

Price
Intel Core i5:

Model 1: 4GB RAM+ 128GB storage: $999 (roughly €913/Rs.64,076)
Model 2: 8GB RAM+ 256GB storage: $1,299 (roughly €1,188/Rs. 83,318)

Intel Core i7:

Model A: 8GB RAM+256GB storage: $1,599 (roughly €1,462/Rs.1,02,540)
Model B: 16GB RAM+512GB storage: $2,199 (roughly €2,011/Rs.1,41,016)