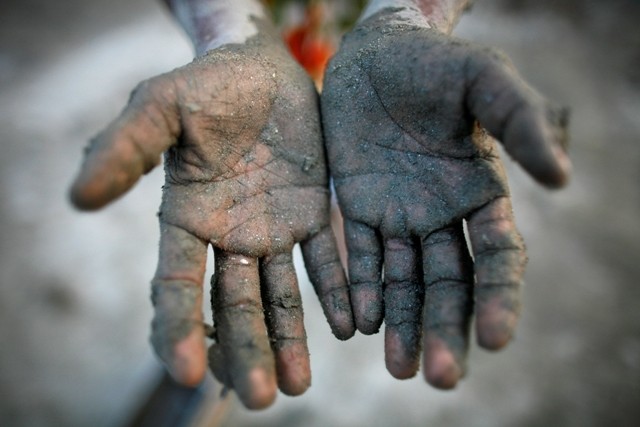 The National Commission for Protection of Child Rights (NCPCR) conducted a fact-finding mission in Jharkhand this month to understand the extent of child labour employed in the mining of Mica.
"Many of these mines are illegal and they hire child workers to keep costs down," Yashwant Jain, an NCPCR member who visited Jharkhand, was quoted as saying by Reuters.
According to activists, these children have to climb down narrow shafts and cut mica with hammers and chisels without any safety equipment and work for up to eight hours a day.
The mining of mica, a mineral used in items such as lipstick, eye-shadow and electronics, puts the children working in these mines at risk of skin diseases, respiratory infections, injury and death.
"We met with some traders and told them not to buy mica mined by child workers. We told them we would take strict action against anyone caught doing so," Jain said.
Activists say those engaged in mica trade seldom check to see the supply chain, which consists of intermediaries who sell mica excavated from illegal mines to exporters, who in turn sell it to manufacturers.
"Legal or not, no one should be engaging child workers — it is against the law," Jain said.
Child labour continues unabated in India despite the Child Labour (Prohibition and Regulation) Act of 1986 that bans children under 14 from working in dangerous occupations such as mining, gem cutting and cement manufacture.
Even though India wants to outlaw child labour in all sectors rather than the current law that lists only 18 hazardous occupations and 65 processes, activists fear the new amendment would not cover children, who will be permitted to work outside school hours on the pretext of lending a helping hand to family businesses.
The International Labour Organisation (ILO) says India employs 5.7 million of the 168 million child workers in the world within the 5-17 age group.
Out of those, up to 20,000 children are estimated to be working in the mica mines in Jharkhand and Bihar, which together produce about three-quarters of the mica mined in India.
Jain also said it's unfair to target the family of the children, who are usually poor and illiterate and victims of their circumstance.
"We realise it is poverty that is driving these villagers to send their children to the mines, not to schools," he said. "So we are putting the onus on the traders who are benefiting from the situation. Only by raising awareness that what they are doing is wrong can we solve the problem."