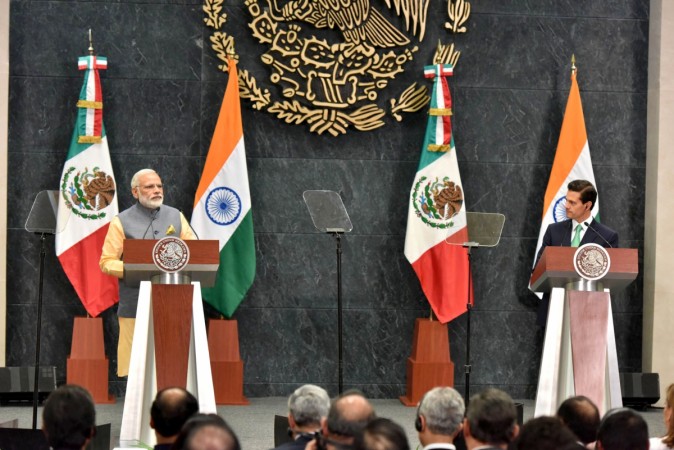 Mexico has expressed its support for India's membership to Nuclear Suppliers Group (NSG) during Indian Prime Minister Narendra Modi's visit to the country. The NSG plenary meeting, where India's membership will be discussed, is scheduled to take place on June 9 and 10 in Vienna.
Earlier, Switzerland had extended its support for India's entry into the elite group, which permits trade and exchange in nuclear materials and technology. The main opposition for India comes from China, which has publicly said that unless a country is a signatory to non-proliferation treaty (NPT) it shouldn't be included in NSG.
"Mexico supports positively and constructively India's membership of the NSG," Mexican President Enrique Pena Nieto was quoted as saying by the Press Trust of India at a joint media interaction with Modi.
"We are looking to move beyond buyer-seller relationship and into a long-term partnership... We have agreed to develop a roadmap of concrete outcomes to upgrade our ties to a Strategic Partnership," Modi was quoted as saying by the PTI.
The two countries also discussed at length bilateral matters, including science, trade, climate change, and technology, according to a statement by the Ministry of External Affairs. The two leaders have instructed their foreign ministers to form the "Privileged Partnership suitable for the 21stCentury, in the framework of the Seventh Mexico-India Joint Commission Meeting to be held in Mexico in 2016."
The two countries also discussed collaboration between their space agencies.
They also "pledged to continue promoting the shared goals of nuclear disarmament and non-proliferation as solutions with multilateral perspective, as well as to continue promoting cooperation on international security issues."
India also holds the support of the U.S. in their bid to become a members of the NSG.
"India has shown strong support for the objectives of the NSG and the global nuclear nonproliferation regime and is a 'like-minded' state deserving of NSG admission," U.S. Secretary of State John Kerry said in a statement, urging NSG countries to support India, according to the Hindu.