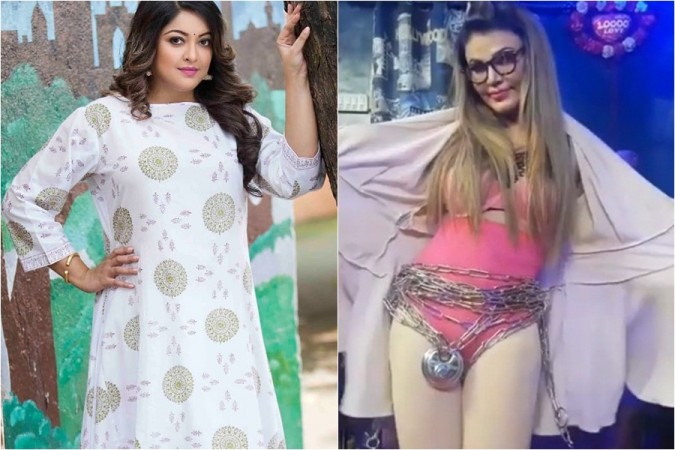 Tanushree Dutta, who is currently being hailed as the flag-bearer of MeToo movement in India, has once again attacked Rakhi Sawant for levelling insensitive allegations against her.
Rakhi had accused Tanushree of being a lesbian and raping her multiple times 12 years ago. However, Tanushree said that she usually doesn't pay heed to such kind of non-sense.
Lambasting Rakhi for labelling victims or survivors of sexual harassment 'struggling actresses', Tanushree expressed her concerns that how could Rakhi mock the victims and muddy the waters of the MeToo movement which is helping spread awareness about sexual abuse across the country.
Responding to the allegations levelled against her by Rakhi, Tanushree Dutta digged up the controversial actress' current financial situation. She also spoke about how there are strong rumours in the industry about Rakhi that the latter is a transgender woman. She even brought out Rakhi's past comments in her interviews in which she had said that she was willing to give in to casting couch if she stop getting jobs in Bollywood.
"Over the past one week, whatever information I have received about Rakhi Sawant say that all her properties have been mortgaged, some fraudster wiped out all of her money and made her penniless, her US visa has got rejected so now she couldn't go and work over there either. There are strong rumours in the industry that you (Rakhi) are a transgender. People know that you are a transgender woman. And in your old interviews and videos, you have admitted your involvement in the casting couch. You've even said that if someone gives you a job, you are willing to do casting couch as well. This is your truth Rakhi. Today, you are now draping yourself in a saree, giving interviews against me and slinging mud at me? Why don't you do some introspection and see what you really are and what all you've done in your life?" Tanushree told Zoom TV.
After levelling rape charges against Tanushree Dutta and introducing the concept of 'Godrej lock' to protect women from sexual abuse, Rakhi Sawant had urged Yoga guru Baba Ramdev to make 'vegetarian' bra and panties equipped with eye sensors to protect Indian women's dignity. She even claimed that she hasn't had sex in the past 2-3 years and has taken a spiritual path in life.
Having watched Rakhi's recent interviews, Tanushree said that she doesn't hate her but
"I don't hate her. I have compassion for her because she has been so misguided in life. Her mentality, her thought process has got so much tangled that now she couldn't even distinguish between right and wrong. You are damaging yourself more than you are damaging me. You are saying anything and whatever that is coming to your mouth. I am not getting damaged. My family knows about me. They have given birth to me and they know what I am," Tanushree said.
Watch the video here: