Tanushree Dutta, who is said to have triggered India's much-awaited #MeToo movement, has expressed her disappointment with Swara Bhasker for saying that sexual harassment stories from anonymous accounts should be discouraged.
After Sacred Games' co-writer Varun Grover, who has been supporting MeToo movement, had issued denied all the allegations levelled against him by an anonymous account in a detailed statement on Twitter, Swara Bhasker quoted his tweet and wrote, "It is imperative that anonymous accounts be discouraged. Brave women are sharing their names and stories, enabling other women to speak up. We need thorough, investigative journalism that questions both alleged perpetrators & victims & corroborates stories & fact finds."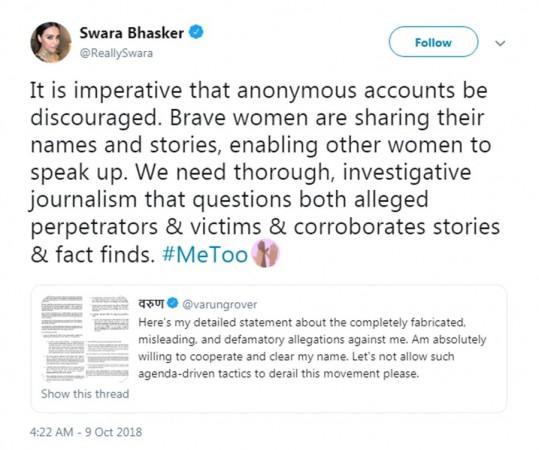 But Tanushree was not at all happy with Swara's statement and said that women will have to wear cameras on their foreheads if one has to prove everything that has happened to them. She added that some people would want to stay anonymous because they would not be comfortable in speaking about their sexual abuse encounters in public.
"I'm surprised she said that. See, this movement is a more like a social cleansing. Offences of a sexual nature can never be so black and white, you cannot always try them in a court of law. That's why today in our country there are so many cases that have not yet come to their judgement. You cannot always bring proof—women will have to wear cameras on their foreheads if one has to prove everything that has happened to them. When something like a social media movement happens, I'm sorry this is how it goes. Some people are going to be anonymous because they are just not comfortable talking," Tanushree Dutta told LiveMint.
While Nana Patekar has been removed from Housefull 4 and replaced by Rana Daggubati, Tanushree wants the choreographer - Ganesh Acharya, producer Sami Siddiqui and director Rakesh Sarang to be held accountable as well as they were the ones who pressurized her to do the 'lewd' dance steps with Nana.
"Justice for me is always divine retribution. But also, what's happening in the country now has never happened before, in Bollywood and workplaces, which is also some kind of retribution. People have been dropped from movies... Nana (Patekar) was dropped from a film (Housefull 4). I'm still waiting for those other three to get pulled to task—the choreographer, producer and director—because they were the real evil behind the whole thing. They were the ones who were pressurizing me to do the dance steps. I want them to be held accountable somehow because now they have all gone into hiding," Tanushree said.