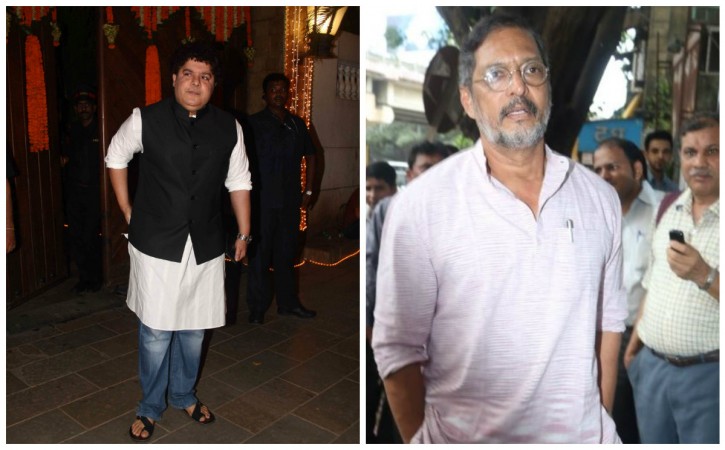 Sajid Khan and Nana Patekar have apparently been ostracized due to the #MeToo allegations levelled against them.
It was Sajid's birthday on November 23, but unlike other years, the film-maker hardly received any good wishes from the industry people.
It has been reported that Sajid, who otherwise get tons of phone calls and messages on birthday, did not celebrate his special day fearing none of his peers would turn up for a party.
"He had no birthday party. Not only because he had nothing to celebrate, but also because not too many of his friends would come. His phone used to be on the verge of crashing every year on his birthday, there were so many calls and messages. This year no one wanted to be caught wishing him," The Asian Age quoted a source as saying.
Multiple women had accused Sajid of sexual harassment, following which he had to step down from the director's chair of Housefull 4. Although none of the charges has yet been proved, Sajid has already been ostracized, and almost the same is the case with Nana Patekar, who was accused of sexual harassment by Tanushree Dutta. Nana too was removed from the cast of Housefull 4 after the allegations.
"Though Sajid is still to be proven guilty, he is facing ostracization. We summoned him to give us an explanation. He didn't turn up. We summoned him again. This time he came and denied all the charges. Technically Sajid is still not guilty. We, as a film federation have to go by the law. However, there is a wider moral issue. And that could prevent Sajid, or for that matter Nana Patekar, from being employed. If thousands of workers of the various film unions in Bollywood agree to not work with MeToo accused, there is nothing they can do about it," the publication quoted FWICE chief advisor, Ashoke Pandit as saying.
"This ostracism is bound to happen; no law can prevent it from happening. And why just the alleged perpetrators, even those close to them must be ostracized," he added.