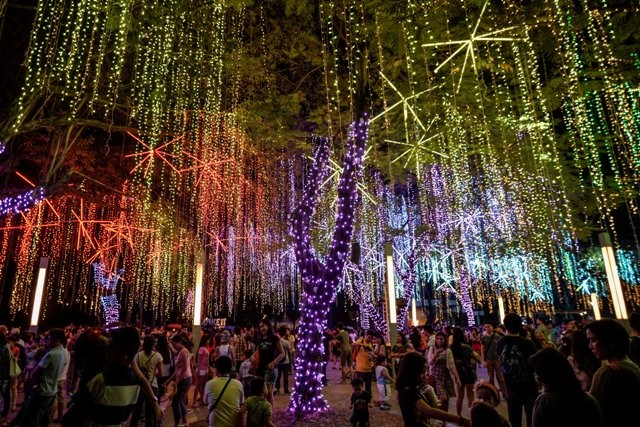 Merry Christmas 2014!
If you are talking about fun, enjoyment, togetherness, gifts, joy and anything beautiful, you are probably talking about Christmas – the most-anticipated religious and cultural festivity of the year.
Christmas has an ingrained feel-good factor to it, an intrinsic and unexplainable way of making people sense and experience everything that is good and positive.
Right from the radiance of the twinkling Christmas tree to the thoughtful gifts beneath it; from the fun associated with Santa's stealthy way of making everyone happy, to the wonderful carols and songs people sing – there is something beautiful about this day.
Whether it is a way to praise Christ, who was born on this day, or to rejoice the human emotions of solidarity and oneness the occasion entails; whether we talk about the white snow, jingle bells, or the shopping craze associate with the season - there is something overwhelmingly uplifting about this holiday.
As Christmas 2014 arrives, everyone will have something to say - along with the usual 'Merry Christmas' wishes - to one's loved ones. We have rounded up 20 best quotes and messages underneath to share on this special occasion:
This is also an occasion when you must read the following:
40 Best Christmas Card Messages, Verses, and Sayings to Write on Holiday Greetings
10 Fun Facts You Did Not Know About the Holiday Season
Best Christmas Quotes and Messages

"Christmas waves a magic wand over this world, and behold, everything is softer and more beautiful."
― Norman Vincent Peale
"He who has not Christmas in his heart will never find it under a tree."
― Roy L Smith
"Christmas isn't just a day, it's a frame of mind." — Valentine Davies, Miracle on 34th Street
"One of the most glorious messes in the world is the mess created in the living room on Christmas day. Don't clean it up too quickly." ― Andy Rooney
Christmas is a time when you get homesick — even when you're home. ~Carol Nelson
"Sing hey! Sing hey! For Christmas Day; Twine mistletoe and holly. For a friendship glows In winter snows, And so let's all be jolly!" — Author Unknown
"The joy of brightening other lives, bearing each others' burdens, easing others' loads and supplanting empty hearts and lives with generous gifts becomes for us the magic of the holidays." — WC Jones
'Twas Christmas broach'd the mightiest ale;
'Twas Christmas told the merriest tale;
A Christmas gambol oft could cheer
The poor man's heart through half the year.
— Walter Scott
Christmas is a necessity. There has to be at least one day of the year to remind us that we're here for something else besides ourselves. - Eric Sevareid
May Peace be your gift at Christmas and your blessing all year through! - Author Unknown
Never worry about the size of your Christmas tree. In the eyes of children, they are all 30 feet tall. - Larry Wilde, The Merry Book of Christmas
"The best of all gifts around any Christmas tree: the presence of a happy family all wrapped up in each other." — Burton Hillis
"It is tenderness for the past, courage for the present, hope for the future. It is a fervent wish that every cup may overflow with blessings rich and eternal, and that every path may lead to peace." — Agnes M Pharo
"May you have the gladness of Christmas which is hope; The spirit of Christmas which is peace; The heart of Christmas which is love." — Ada V Hendricks
"The best and most beautiful things in the world cannot be seen or even touched. They must be felt with the heart. Wishing you happiness." — Helen Keller
"I heard the bells on Christmas Day Their old, familiar carols play, And wild and sweet The words repeat Of peace on earth, good-will to men!" — Henry Wadsworth Longfellow
"Christmas is not a time or a season but a state of mind. To cherish peace and good will, to be plenteous in mercy, is to have the real spirit of Christmas." — Calvin Coolidge, 1927
"Every piece of the universe, even the tiniest little snow crystal, matters somehow. I have a place in the pattern, and so do you. Thinking of you this holiday season!" — TA Barron
"My idea of Christmas, whether old-fashioned or modern, is very simple: loving others. Come to think of it, why do we have to wait for Christmas to do that?" — Bob Hope
"Unless we make Christmas an occasion to share our blessings, all the snow in Alaska won't make it white." — Bing Crosby