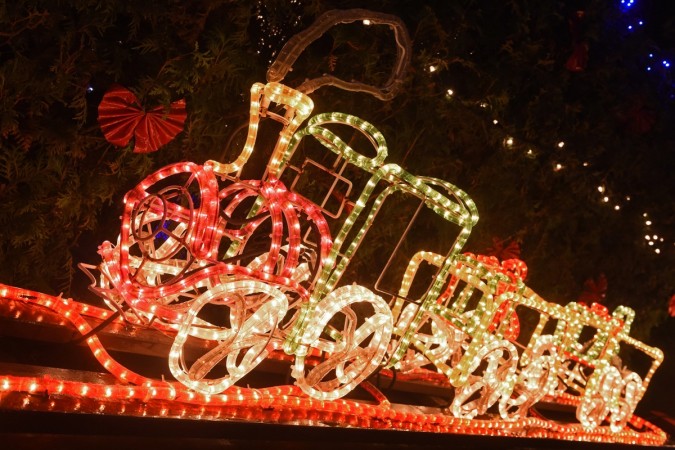 Christmas 2014 has officially arrived, the festive season awaited by most around the world.
Christmas celebrates the birth of Jesus Christ – a story familiar to billions around the world and embraced by all. But amid the frolic and fun surrounding the festive season, have we ever wondered if we know everything about the festival?
We have rounded up 10 most interesting fun facts or 'did you know'-kind of revelations about Christmas you might be surprised to come across.
Despite popular belief many historians say the actual date of Jesus' birth was nowhere near 25 December or the winter season. The bible doesn't actually mention a specific date. The fact that he was reported in the holy book as being born at the time when shepherds were herding animals have led many historians to believe he was probably born in the spring.
The biggest ever Christmas present given was the 'Statue of Lliberty'; presented by the French people to the US.
'Santa Claus' is derived from an actual saint called 'Saint Nicolas' who lived in Myria –present day Turkey. And it was Dutch settlers in America who first brought the legend of the St Nicholas – known to them as 'Sinter Klaas' -- towards the end of the 18th Century.
The first decorative Christmas trees were not trees at all. Developed in Germany in the early 19th century, those "trees" were made up of goose feathers that were dyed green.
Unlike the pretty baubles we see today, Christmas trees were originally decorated with foods like dates, nuts and apples.
Christmas is known by many other names around the world. How many of the following sound familiar? Sheng Tan Kuai Loh (China), or Hauskaa Joulua (Finland), or Joyeux Noel (France)? In Wales, it's Nadolig Llawen, and in Sweden, God Jul.
The term 'Xmas' traces its origin to Greece. The Greek letter "X" is a symbol of Christ.
A Christmas tree was decorated for the first time ever in Riga, Latvia, in 1510. Today about 36 million Christmas trees are produced each year on Christmas tree farms.
The Candy Cane, which serves as one of the most familiar symbols of Christmas, dates back to 1670 in Europe. But it wasn't until the 1800s that it arrived in the United States.
The Christmas socks also have an interesting story. Legend has it that St Nicholas saved three impoverished girls from a life of prostitution by giving away his wealth for their dowries. He is said to have tossed three bags of gold for the young women, who received the gold that landed into their socks that were left near the chimney to dry.