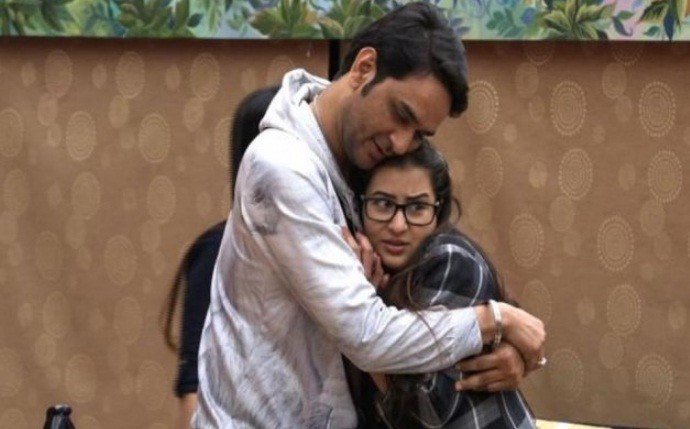 Bigg Boss 11 winner Shilpa Shinde's equation with Vikas Gupta has always been a much talked about topic for the viewers of the show.
While the two were seen having a very bitter relationship at the beginning of the show, their friendship blossomed soon. Later, their bonding got so much love that fans started expressing that they want to see Shilpa and Vikas get married.
Also read: Bigg Boss 11 contestant Benafsha Soonawalla gets trolled for wearing bikini, fans come to her rescue
There were even rumours that the two Bigg Boss 11 contestants are actually dating and marriage is on the cards. However, Shilpa denied the buzz and responded to fans' wish to see them as a married couple in a hilarious manner.
Speaking to Bombay Times on the 'viewers' desire to see them married', Shilpa said, "It's a joke. Mere itne bure din aaye hain kya? (Have I fallen on such hard times?)"
Certainly, Shilpa and Vikas are now good friends, but it looks like fans' wish to see their marriage is not going to come true. Vikas had even once made Shilpa promise on the show that she will work with him after Bigg Boss 11.
The actress seemed to be true to the promise but on a condition. She said that she will shoot for his next project, but it should not be a daily soap.
"During a task, he promised to cast me on a show. Since I have committed, I will work with him, but I don't want to take up a daily soap and be bound by a character. I hope I get good work in Bollywood," she told the daily.
Some of the viewers of Bigg Boss 11 were suspicious about Shilpa and Vikas suddenly turning friends from foes in the show. In response to this, Shilpa said that things turned good between them because Vikas was trying hard to become friends with her.
"After locking horns with Vikas in the beginning, there came a time when I handled the matter maturely and took a back seat.
However, people viewed that too with suspicion, wondering how I could become friends with him in just two days. What people didn't notice was that Vikas was trying to be nice to me since day one, but I didn't reciprocate. Everything is fine between us," the daily quoted Shilpa as saying.
Shilpa won Bigg Boss 11, beating tough competitors like Vikas and Hina Khan. Although she appears to have made peace with all the other contestants, Shilpa seems to dislike Hina extremely as she openly said that she will never want to see the latter again.