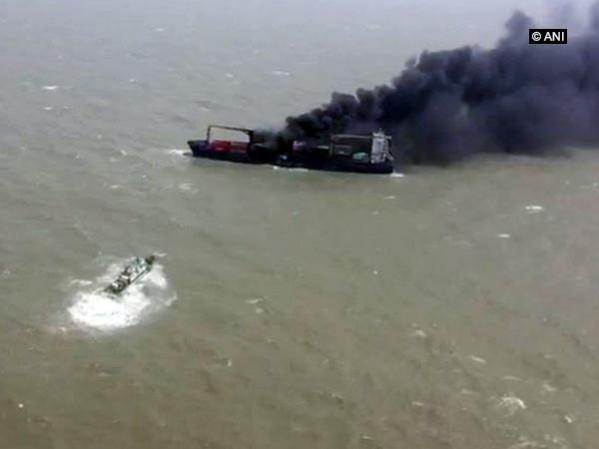 A merchant ship MV SSL Kolkata caught fire late last night, but the Indian Coast Guard was successfully able to rescue all 22 crew members.
The Coast Guard ship Rajkiran and Dornier aircraft carried out the rescue operation on the Indian flag container vessel at around 8:30 AM today. All 22 crew members are of Indian-origin and have not received any serious injuries.
ICGS Rajkiran was deployed from Haldia and the Dornier aircraft was launched from Kolkata for the mission. The rescue mission was undertaken despite the bad weather conditions and rough seas.
"No spill of fuel as of now, however, if such has happened coast guard will take care of it. Merchant Vessel SSL Kolkata was carrying 464 containers. We have successfully rescued all the crew members and they are safe," said Inspector General Kuldeep Singh Sheoran, Coast Guard Commander at Regional Headquarters (North East) in Kolkata.
The container vessel was on a voyage from Krishnapatnam in Andhra Pradesh to the West Bengal capital with 22 crew members and 464 containers. By the time the rescue teams were able to reach the MV SSL Kolkata, about 70 percent of the vessel was on fire as per reports. The crew had called for abandoning the ship.
The fire broke out due to an explosion in one of the container and gradually it spread over.
In March this year, a Singaporean container ship caught fire off the Lakshwadeep coast and the Coast Guard recorded four crew members as missing.