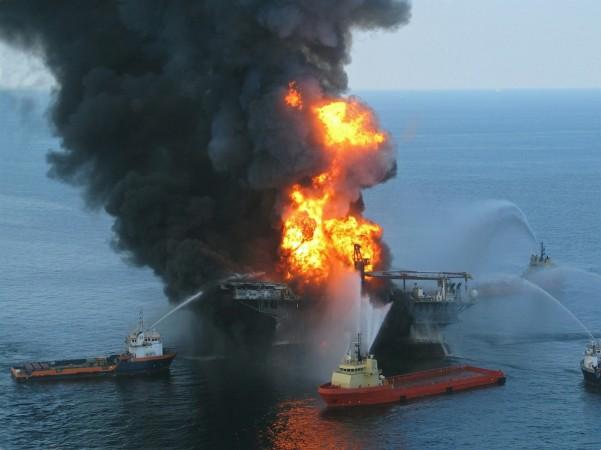 The Indian Coast Guard (ICG) is still trying to put out a massive fire that broke out on a Singapore-flagged vessel in the Arabian Sea on Tuesday night. The incident took place at 9:45 pm near Agatti Island in Lakshwadeep.
Rescue operations are underway as four crew members, who were on board the Maersk Honam container ship, are still missing. There were a total of 27 people on board, of whom 13 are said to be Indians.
"Search Operations are on and Coast Guard assets have been pressed into action, It is our priority to save and rescue the four missing crew and also continue our efforts to salvage the vessel with assistance of specialized vessels which is being arranged in coordination with the Ship agency," Coast Guard Commander (West) IG KR Nautiyal was quoted as saying by The Indian Express.
A distress call was sent out from the Maersk Honam vessel to the ICG's Maritime Rescue Coordination Centre (MRCC) in Mumbai that an explosion had taken place on board, leading to a fire.
Fire fighting still underway after
a Singapore flagged container vessel Maersk Honam caught fire last night at sea near Agatti island. 13 of the 27 crew members on-board are Indians. 4 still missing. @IndianExpress pic.twitter.com/ngKJVGxnpc

— Rashmi Rajput (@RashmiRajput123) March 7, 2018
The ICG immediately sent help to rescue the crew.
"The ship was at a distance of 570 km (340 nautical miles) from Agatti in Lakshwadeep Islands. The MRCC immediately alerted all the merchant ships near to the location, through the satellite-based communication network, the International Safety Net (ISN)," the ICG said in a statement.
The ICG also said it had deployed an Indian Coast Guard ship named Shoor, which was patrolling near the Lakshadweep Islands, to assist in the rescue operations.
"Further, the Coast Guard plans to press in their Dornier D 228 maritime reconnaissance aircraft from Agatti Island for search and rescue," the ICG statement said.
Apart from the 13 Indians, the container ship also had nine people from the Philippines, two from Thailand and one each from Romania, South Africa, and the United Kingdom.
The 330-metre long ship, built in 2017, had departed from Singapore on March 1 and was heading towards Suez in Egypt.
The ship has a Gross Tonnage of 153153 and a Deadweight tonnage of 162051.