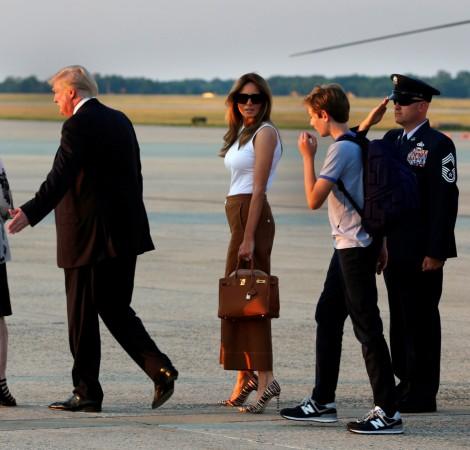 A fake news has been doing the rounds that claimed First Lady Melania Trump had issued a threat to former President Barack Obama. The "alleged" threat was issued after Islamic State (ISIS) posted a message calling for the assassination of US President Donald Trump's youngest son, Barron Trump.
The report originated on YourNewsWire site claimed that Melania threatened to scratch out Obama's eyes "if ISIS lay a finger on her son Barron." However, the news is a fabricated one, as Melania has not threatened Obama, according to PolitiFact.
The notorious YourNewsWire website is a clickbait fake news site known for publishing fake reports. The website falsely reported, "First Lady Melania Trump has warned former president Barack Obama that if ISIS terrorists "lay a finger" on Barron Trump, she will "scratch his eyes out." Melania Trump's warning comes days after ISIS terrorists used social media to call for the assassination of Barron Trump."
While Melania has not issued any warning to Obama, ISIS supporters have called for the assassination of Barron, "son of the mule of America." According to Washington Free Beacon, a pro-ISIS channel has shared personal details of the 11-year-old Barron on the chat app Telegram.
The message, which was sent on November 21 by an ISIS supporter, was shared on Telegram with a hashtag that read, "handle the son of the mule of America," according to the Middle East Media Research Institute (MEMRI). The threat was posted by the user "Dak Al-Munafiqeen." The post also had a photo of Barron Trump, according to MEMRI.
The ISIS supporter even posted the name of Barron's school in Washington DC and shared the location on Google Maps.
The Islamic terror outfit has issued several threats during the festive season, but there are concerns about the legitimacy of "Barron Trump assassination call." According to MEMRI, the message was posted by a supporter and it was not from the group.