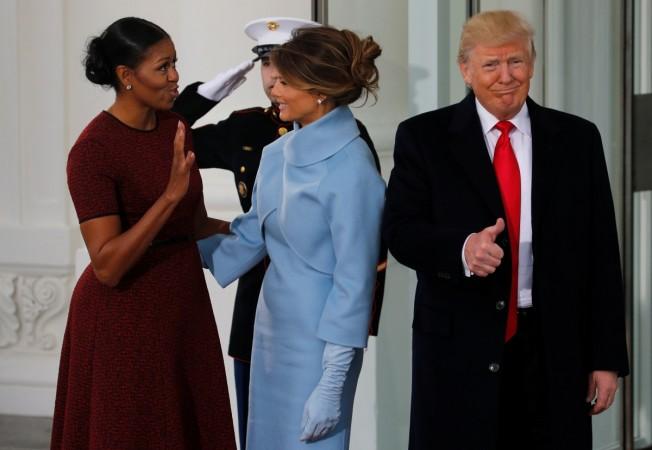 The current first lady needs to take classes from the former first lady on how to be yourself! While First Lady Melania Trump's official portrait received flak for being "heavily airbrushed," Michelle Obama is making the twitterati happy as a picture showing her natural hair hit the social media platform.
Also Read: Malia Obama's internship style statements could give Ivanka Trump a run for her money! [PHOTOS]
Michelle has always kept her hairstyle simple yet classy. Over the eight years in office, she has rocked every look she tried right from wavy and a bob to a straight cut.
However, over the weekend, she showed the world something that they had not been seen in the past decade – her natural curls. Honestly, we wished that she had debuted her beautiful locks long ago.
A photograph, taken over the weekend, reveals the ever-stylish Michelle keeping it casual as she opted to sport her natural hair pulled back into a low puff and accessorised the black hair with a polka dot headband. While it is unclear when and where the picture was taken, the internet is obsessing over the new natural look.
Michelle Obama looked SOOOOO fucking amazing with her natural hair omg <333

— BeyAndre 3000 (@Luge_Knight) April 5, 2017
Michelle Obama rocking natural hair is THE greatest thing to ever happen to me

— Chioma Chikezie (@_cchikezie) April 3, 2017
This comes at a time when twitterati was outraged over the first official portrait of First Lady Melania Trump. The 46-year-old former model posed at the White House wearing a black formal attire with folded hands, showing off her ring. The picture was criticised by many and Cosmopolitan Magazine went on to admit that the photo "appeared to be heavily airbrushed."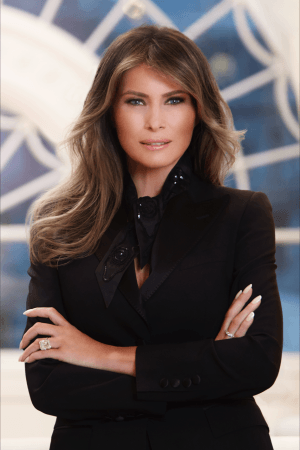 The publication added: "This soft lighting is like only the classiest '90s mall glamour shot photo could offer!" Ouch! This coming from a magazine that knows Photoshop skills the best.
The picture was taken and released two months after Donald Trump became the president of the United States. Revealing the picture on April 3, the First Lady said, "I am honored to serve in the role of First Lady, and look forward to working on behalf of the American people over the coming years."