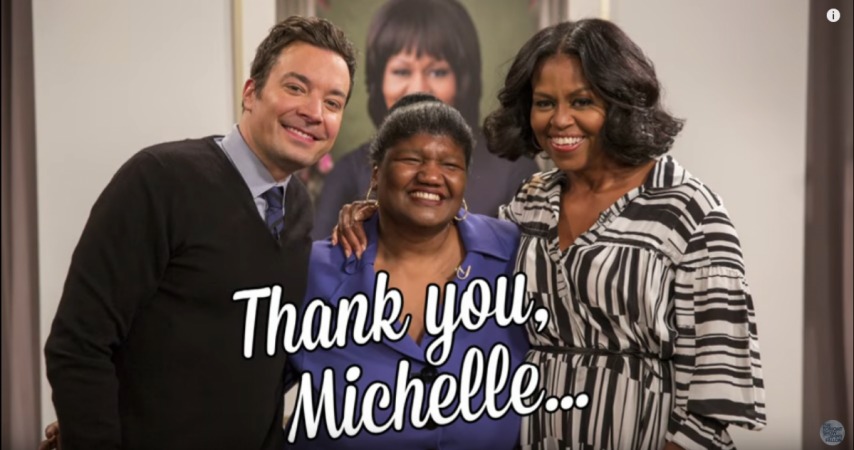 Through the eight years of Barack Obama's presidency, Michelle Obama was a role model for people of all ages and made a great difference in many lives. So, to thank her for her contributions, The Tonight Show Starring Jimmy Fallon host Jimmy Fallon set up a recording session for people to tape their thank you messages for Michelle. The First Lady of United States of America also decided to surprise people by showing up in front of them after they were done talking to the camera. However, she was in for a surprise when she realised that one of the speakers was her classmate from college.
Also Read: Farewell Obama: Tom Hanks, Leonardo DiCaprio and John Legend among many celebrities bidding an emotional goodbye (Watch video)
In the thank you video, people from different backgrounds are seen thanking for numerous steps taken by Michelle and reveal its effect on their lives. Her friend walked into the studio to "stop by and say hello." "I appreciated you as the First Lady in these last eight years, (time) has really flown by. Got my Fitbit on, you got the kids moving, you got me moving. I am counting my steps everyday which is really great. But on a serious note, I really want to thank you for the role model you have been as the First Lady," she shared. A surprised and emotional Michelle walks out to meet "Princeton" (the name Michelle is seen calling the lady in the video) for a quick reunion.
There were other Americans who took the opportunity to thank the First Lady for a number of things. "For years, you have shown our nation countless times that through dignity, compassion and respect, we can overcome any hardship. Thank you for inspiring all Americans," one of them expressed before she broke down into tears.
Another woman expressed that she wanted to work for Michelle one day and the First Lady instantly came out and hugged her. One American walked in to express that he felt that she reminded him of the best teachers he had, while another shared that she recalled the mom dance session with Fallon where she outdid his performance.
A father of two walked in to thank Michelle for being a role model for his daughter. "She has a salad bar at school and she tried it. So, thank you for making my daughter eat vegetables. She tired kale, which kid tries kale? I let her stay up and watch your speeches because the thread that runs through your speeches is kindness, always kindness, speaking deep from your heart. That is one value I tried to teach my kids," he shared.
Watch the entire video of Michelle Obama surprising guests here: