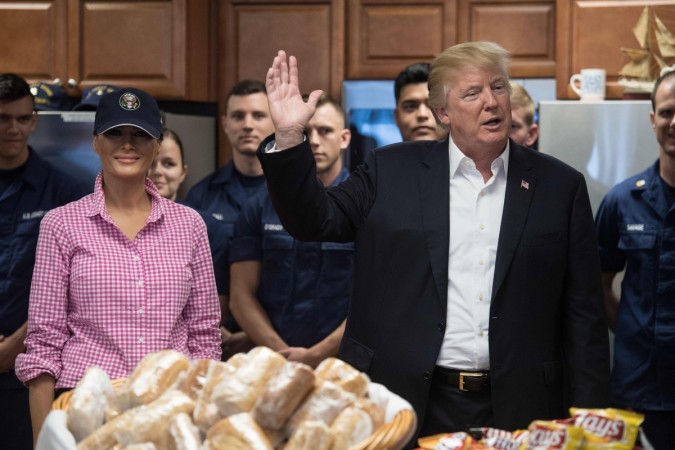 This Thanksgiving, Melania Trump should ideally thank former FLOTUS Michelle Obama for helping her improve her style game.
The Donald Trump wife is known to pick out extravagant outfits that easily surpass a couple of thousands of dollars. However, on the occasion of Thanksgiving, the first lady turned to inexpensive J Crew button downed shirt, which is unlike Melania's style.
Also Read: Ivanka Trump's $4,690 outfit outdoes Melania's $1,625 coat; Tiffany's short coat gives you the chills! [PHOTOS]
Flying down to Florida with her husband President Donald Trump to spend the annual holiday at his Mar-a-Lago resort, the couple ventured out to meet the members of the state's Coast Guard and serve them lunch.
Instead of opting for an expensive outfit like the $1,625 Stella McCartney coat that she wore recently, Melania went the Michelle way and wore a $75 shirt paired with a pair of black trousers. She left her trademark stilettos home and turned to a comfy pair of sneakers. She tied her hair up into a ponytail tucking it through the baseball cap hole.
The first lady looked more accessible and suited the occasion, just like Michelle used to.
For those of you who don't remember, this isn't the first time Melania has worn this outfit. She was seen wearing the same shirt when she returned to the White House from her Camp David family holiday a few months ago.
It is a welcome style move considering that she has faced criticism for not choosing the right outfits for some occasions. Remember her stilettos blunder when she visited the victims following Hurricane Harvey.
Flaunting her off-beat style choice, Melania took to Twitter to share few images from the event. Several of the pictures showed the FLOTUS shaking hands with a number of the Coast Guard members, posing with the whole group, and handing out sandwiches, chips, and other tasty treats.
"Thrilled to spend part of our Thanksgiving w the local Coast Guard station in Florida. Thank you to all members of the military who keep us safe!" she wrote.
Melania was all smiles at the event.