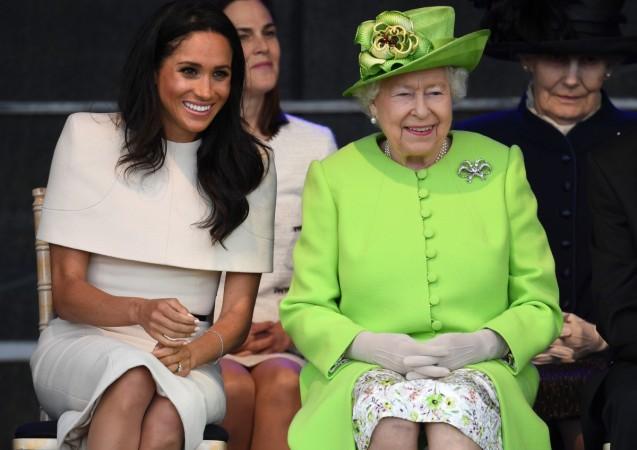 Just when you thought Meghan Markle was getting used to the new royal life and getting along extremely well with the Queen, she took a misstep that has caught everyone's attention.
Making her debut at the Royal Ascot with Prince Harry, the Duchess of Sussex won hearts with her regal look and behaviour. However, onlookers were quick to notice when the newly-wed broke a protocol that involved the Queen.
Cameras caught Meghan standing near the Queen, who was sporting a bright yellow outfit, when suddenly, Harry called upon his wife and Meghan appeared to have turned her back at the Queen to attend to another guest at the ascot. Turning your back on the Queen is considered rude and disrespectful, and more importantly, a breach of protocol at the Buckingham Palace.
According to Jane Eastoe's book, called Elizabeth: Reigning in Style, turning your back on the queen is a big no-no. The British Monarchy website too mentions that while there are "no obligatory codes of behaviour when meeting the Queen," one can still choose to "observe the traditional forms."
While it is not known if the Queen has taken Meghan's misstep seriously, videos from the incident prove that Meghan did not intend to disrespect the Queen or break any royal protocol.
Meanwhile, a body language expert Judi James told Express UK that there are a few things he noticed about Meghan which prove she is turning into a true-blue royal.
Her trip with the Queen seems to have modified her handshaking techniques, with the increased distance plus the softer looking grasp being very much a signature ritual of the Queen. Meghan uses a waist-high clasp with fingers pointing sideways and down in a very elegant and gracious-looking default pose. It looks utterly regal and is a signature look of Camilla's," he said.
"Meghan uses three subtle steering gestures to choreograph things for Frankie and the other guests but without looking dominant. This is the kind of quiet behind the scenes planning that Kate excels in," he added.