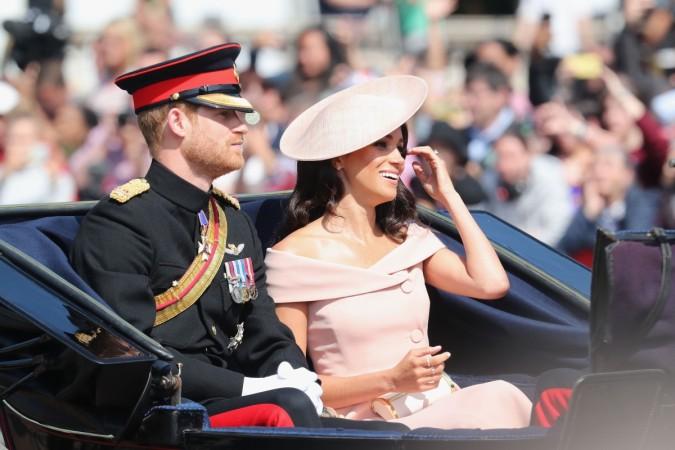 The Duke and Duchess of Sussex along with other members of the royal family graced the annual Royal Ascot on Tuesday. Clad in a white Givenchy Dress, Meghan Markle stood out in the crowd with charm and elegance.
Meghan with her husband Harry arrived in a carriage procession behind the Queen. The newly-wed couple also presented the winning trophy to Frankie Dettori for winning the St James's Palace Stakes.
However, many raised the eyebrows when cheeky jockey Frankie Dettori planted a kiss on Meghan's hand while receiving the winning trophy. From the pictures, it looks like husband Harry was less than impressed with the move. He looked stony-faced and even wagged jokingly at the sportsman afterwards. Well, that looks like hubby Harry has a possessive side too.
Dettori's cool act hit the headlines immediately. However, according to royal.uk, the jockey didn't break any protocol as there are no obligatory codes of behaviour while meeting the royal members.
Meanwhile, Harry and Meghan are getting ready for their first international visit—Dublin in July. According to Kensington Palace, the couple will travel to the neighbouring country between July 11-12. A tweet from the palace's official handle stated, "They are looking forward to learning more about Ireland's history and experiencing its rich culture as well as meeting the people who are shaping the country's future."
In a recent interview to British media iTV, Meghan's father Thomas Markle revealed that the Duke and Duchess of Sussex are planning to have children soon. "They are a couple now, they would try to have children soon. Meghan has wanted children for a long time," he said.
Markle also proudly stated that his daughter will be a complement to the royal family and would rise to the occasion in any circumstances.