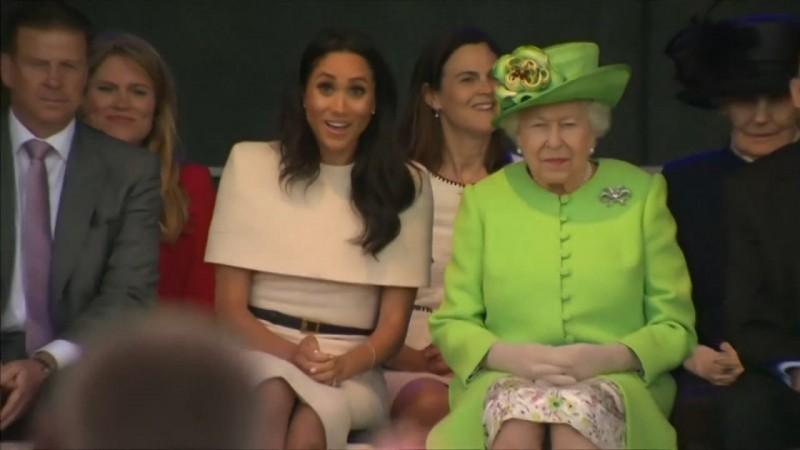 The marriage celebration of Prince Harry and Meghan Markle on May 19 has marked the entrance of another couple in the royal family after Prince William and Kate Middleton. When two beautiful ladies are in the same family, it is obvious to hear and come across certain comparisons and speculations and that too when it is about impressing the oldest member of the family, Queen Elizabeth.
While the Duke and Duchess of Cambridge have been married since 2011, the new couple, Duke and Duchess of Sussex, is yet to complete one-month of their wedding. While Kate has already established herself as a member of the royal family, it's just the beginning for Meghan. The new bride is still trying to settle herself while the already-existing lady is trying to retain her position in the family. It's a normal family situation, after all. What say???
The speculations of both the ladies trying to impress the Queen took place ever since the Duchess of Sussex went for an outing with the former. The royal outing came as a surprise for fans and followers as it took too long for Kate to share an outing with the Queen after marriage. Kate's first solo outing with Queen Elizabeth happened almost a year after her marriage with Prince William.
The outing was a memorable one as it marked the Diamond Jubilee tour of the Queen to the UK in 2012. Meghan, on the other hand, got a chance to enjoy a solo outing with the Queen just three days after becoming an official member of the royal legacy. Though the occasions were different for both the ladies during the solo outing, the choices made for it were similar. Both Kate and Meghan opted for pencil skirt look for their first outing with the Queen.
While Kate adorned herself with a teal peplum suit designed by LK Bennett and accompanied the outfit with James Lock-designed pillbox hat, Meghan wore a light beige pencil dress with a cape top designed by Givenchy, who also designed her wedding dress. According to an insider, however, Kate is offering complete support to Meghan to get adjusted into the family traditions and customs.
"Kate has taken Meghan under her wing and has offered her support and the promise of plenty of advice to help her adjust to her new life," the royal insider told Hollywood Life. "Kate knows better than anyone how overwhelming and challenging it can be to make the transition into being a member of the royal family, and she's vowed to assist Meghan in any way she can."