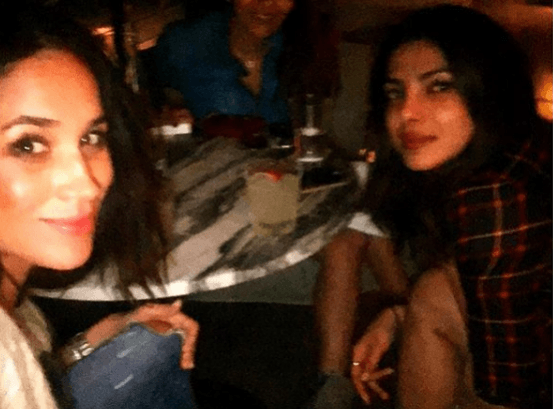 The world has been going gaga ever since it was reported Priyanka Chopra and Nick Jonas are engaged. Fans and friends of the stars, including Chopra's best friend Meghan Markle, are sending their best wishes to the actress and singer.
The Duchess of Sussex, who got married in May to Prince Harry, is reportedly "very excited" for the Quantico star and her husband-to-be.
"Everyone is very happy and they are definitely a great match," the insider told E! News. Chopra was by her side when the Duchess said "I do" to the Duke of Sussex on May 19.
Now, everyone's wondering if Meghan will stand by her friend's side when she says "I do" to Nick. While it has not been confirmed by the royal herself, sources told Hollywood Life that Meghan wants to be the Baywatch actress's bridesmaid.
"Meghan can't wait to get an invite to their wedding and hopes to be a bridesmaid too! Meghan is not surprised at all that Nick and Priyanka are getting married quickly. She thinks Priyanka is an amazing woman and Nick would be smart to lock her down. Meghan is a fan of Nick's music too and thinks they are hot together and will be even better as a married couple," the insider claims.
Although Priyanka and Nick haven't addressed the news about their engagement, a source spoke to People and confirmed that the two stars are about to get married. "[Nick]'s friends and family have never seen him [this happy], and they're all really excited for him. He's definitely very serious about her."
The news outlet also shared that Nick picked out a Tiffany ring for his lovely lady ahead of her 36th birthday. Congratulations you two!