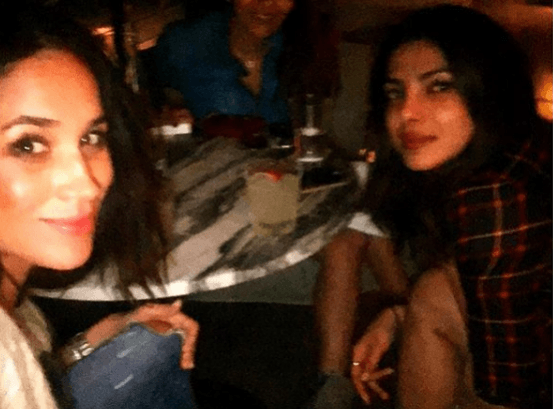 It is no secret that Priyanka Chopra and Meghan Markle are close friends. The two actresses have shared pictures of their girls' night out a couple of times and Chopra has also been vocal about supporting the former Suits star through her relationship with Prince Harry.
However, the question remains: Has Meghan Markle approached the Quantico star to be her bridesmaid? While the soon-to-be royal is mum about her bridesmaid and maid of honour, Priyanka teased the possibility.
Also read: Serena Williams or Priyanka Chopra, meet the women likely to be Meghan Markle's bridesmaids at royal wedding
Featuring on the cover of Harper Bazaar, the Baywatch stunner spoke about the wedding and said, "If you see me there, you'll know." Speaking to E! News in January, the actress revealed that she hasn't met Prince Harry yet. Maybe they cross paths at the wedding directly?
While we wait to see if Priyanka will be a part of the wedding, the actress expressed her happiness about the royal wedding.
"I don't think anybody else would be able to do it the way she will. She's just right for it," Chopra told the magazine. "She's an icon, truly, that girls can look up to, that women can look up to. She's normal, she's sweet, she's nice, she thinks about the world, wants to change it and this was even before any of this happened."
"So I do think Meghan being a part of the royal family is a big step in the direction of so many things; of women, of feminism, of diversity, of race, of the monarchy versus everyone else. It's a beautiful step in the right direction," she added.
Attending or not, Priyanka is already thinking about a wedding gift for the star. "It's a little bit of a problem," she told E! "From what I've always known of Meghan she's not someone who's very materialistic. She really isn't...If you give her a book, she'll be happy—as long as it's thoughtful," she explained.
Prince Harry and Meghan Markle are set to exchange their vows on May 19.