Queen Maxima of the Netherlands is on a four-day visit to India in her capacity as the UN Secretary-General's Special Advocate for Inclusive Finance for Development. While she has been carrying out her official duties and meeting Prime Minister Narendra Modi, External Affairs Minister Sushma Swaraj and other officials, she has also been interacting with residents of various cities.
On Wednesday, May 30, the Dutch royal met the dabbawalas of Mumbai and was also presented with a memento, which was a framed miniature of the traditional lunchboxes.
Thrilled that the Queen met the dabbawalas, a member of the community, Sopan Mare, told ANI that they feel extremely happy and valued when royal families come and meet them. Mare had even attended the wedding ceremony of Prince Charles of Wales and Camilla Parker-Bowles in 2005.
Dabbawalas are a vital part of the financial capital of India and have been providing exemplary services for decades. They are known to collect hot homemade lunches from customers and efficiently offices and schools across the city. The dabbawalas commuting on their over-laden bicycles are a common site in Mumbai.
On May 29, she also visited a village in Meerut, in the north Indian state of Uttar Pradesh, and interacted with the residents there.
After landing in India, she visited Yuri Afanasiev, the local coordinator and representative of the UN and also met a few other UN officials. She discussed several issues with the UN representatives and also gave a short speech.
Later, she met Modi and discussed several financial initiatives taken by the Indian government such as Jan Dhan Yojana, Pradhan Mantri Jeevan Jyoti Bima Yojana, Pradhan Mantri Suraksha Bima Yojana, and Atal Pension Yojana.
"Queen Maxima appreciated the progress achieved by these initiatives," IANS quoted the Prime Minister's Office as saying.
"Queen Maxima appreciated India's efforts in this direction, through the Indian Technical and Economic Cooperation (ITEC) scheme and provision of concessional Lines of Credit for development projects abroad, based on the host government's requirements and priorities."
Maxima, born Máxima Zorreguieta Cerruti, is the first Latin-American born queen-consort in the Netherlands. She is a descendant of King Afonso III of Portugal and other noble families of the Iberian Peninsula in the southwest corner of Europe.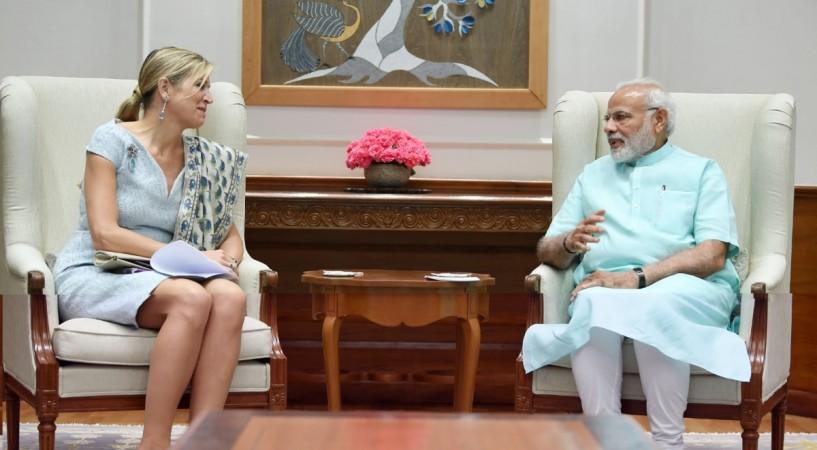 The 47-year-old is married to King Willem-Alexander of the Netherlands and the couple first met in April 1999 in Seville, Spain. Their relationship blossomed over the next few months and they announced their engagement on March 20, 2001. The duo then tied the knot in a civil ceremony on February 2, 2002.
The royal couple has three children – Catharine-Amalia, Princess of Orange, Princess Alexia, and Princess Ariane.