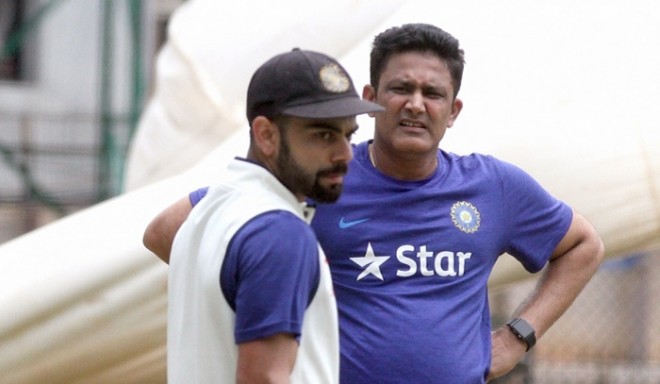 India limited-overs and Test captains MS Dhoni and Virat Kohli met with newly appointed head coach Anil Kumble and India's junior teams coach Rahul Dravid on Sunday. The two captains were involved in a long meeting with the two legends, so that they can discuss and prepare a plan for the upcoming matches, of which there are quite a few.
Dhoni, Kohli, Dravid, Kumble and a few others also present in the metting discussed several issues like the domestic cricket set up, India 'A' tours, injury management, workload of players and focus on strengthening the bench of the senior cricket team.
"Idea was to bring all the stakeholders on the same page as we draw the path for the upcoming season of Indian cricket," BCCI president Anurag Thakur told the board's official website.
Based on their discussions and recommendations, BCCI will plan the future accordingly. This kind of brainstorming sessions will be a regular feature to streamline our efforts to take Indian cricket to new heights."
Dhoni also shared his insights after he toured Zimbabwe with a number of the fringe players, with an India 'A' tour to Australia scheduled for August.
Meanwhile, Kohli and Kumble will have to quickly assess as to who can be the likely replacements for the first-team players in case of an emergency situation.
"This was a very fruitful exercise. Sitting here, we all have one intention and agenda: To align our actions to maximise the potential of Indian cricket. For that we all need to work as one unit. I am thankful to the BCCI for organising such an initiative," Kumble said.
The meeting was also attended by chief national selector Sandeep Patil, general manager of cricket operations MV Sridhar, National Cricket Academy (NCA) batting coach WV Raman, spin bowling coach Narendra Hirwani, chairman of junior selection committee Venkatesh Prasad, Patrick Farhat, India team's physio, Shankar Basu, India side's trainer, and Andrew Leipus, the physio of the NCA.
Hirwani will be looking after the young spinners and make sure their actions are clean before referring them to Dravid's India 'A' side. Raman will be taking care of the batsmen and will work in tandem with Dravid.
Later, the India cricket team also bonded over a musical session. Here are some of the pictures from the meeting and the bonding session: