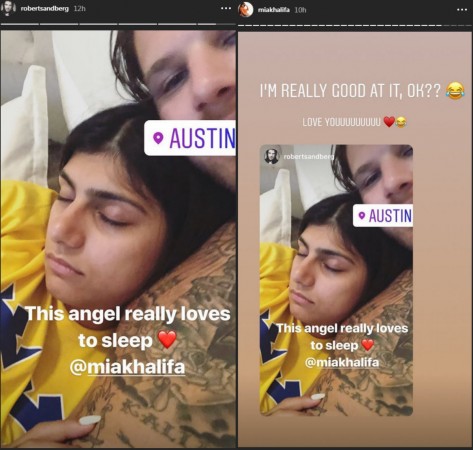 It looks like former porn star Mia Khalifa has found love. The renowned adult film star, who was known to give several porn stars a run for their money with her racy porn videos for over two years, shared a new picture with a hot man.
The 25-year-old sparked speculations about her new boyfriend when she posted a picture with him and adorable caption. The picture sees Khalifa taking a mirror selfie while Swedish chef Robert Sandberg hugged her.
Khalifa wrote, "Find someone that looks at you the way @robertsandberg looks at me after I've forced him to take our 1,264th selfie of the night. With patience and love, but a slight gleam in the eye begging me to get in the fucking car ♥️ Thank you for putting up with me, min älskling ♥️ #HesACatch #ThrowbackWednesday"
She wasn't the only one who fuelled speculations about their affair. The chef too took to his Instagram account and shared a picture with Mia claiming that she was his. "You and me min @miakhalifa ❤️ #shesacatch" he shared with a picture of him kissing her. The duo shared the picture on the same day.
According to a Daily Star report, the couple first met in Copenhagen, Denmark, where he works for Michelin-star restaurant, Kong Hans Kælder. The two look merry in love!
Check out the pictures below:
Khalifa had recently made headlines when an ice hockey puck crashed into her boob. The incident had ruptured her left breast implant and made her feel like "blood was going everywhere".
The former porn star quit the industry after she received death threats from the ISIS after she featured in a porn video wearing a hijab. Things got so out of control that Khalifa felt choosing another career made more sense.