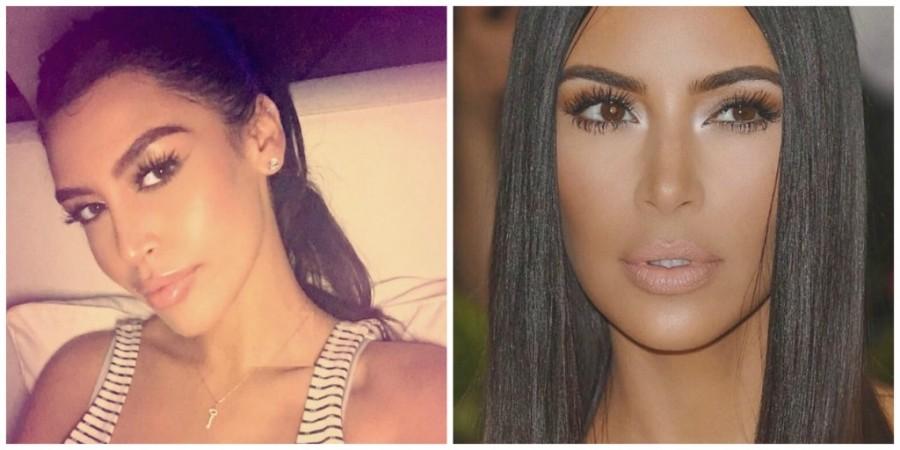 Listen up Kim Kardashian and Kylie Jenner, we have found your doppelganger in Dubai!
Kim Kardashian and Kylie Jenner are one of the most popular faces on reality TV and social media with millions of followers. And, on the other side, these Dubai-based beauty blogger sisters Sonia and Fyza Ali are gaining popularity because of their uncanny resemblance to the Kar-Jenner sisters.
Also read: Ariel Winter copying Kylie Jenner? These photos of the Modern Family star are the proofs
Despite the fact, the girls totally denied when asked about their resemblance with the Keeping Up With The Kardashians stars. The sisters told Emirates Woman, "Our close friends and family are so used to seeing us [that] they have never seen a resemblance. We find it weird when people approach us saying so because we don't even dress anything like them."
Well, even they denied the fact, the eagle-eyed fans of Kim Kardashian and Kylie Jenner did not waste any time to notice the similarities in their long dark hair, makeup, dresses, and pout faces. Check out the following pictures below as our words of evidence.
According to Daily Mail, Sonia, who has an Instagram account with her sister-cum-makeup artist Fyza (@soniafyza) described herself as a 'beauty addict.' Sonia told Daily Mail, "My sister and I love Kim Kardashian's makeup. Fyza likes to experiment with celebrity-inspired looks on me so we have recreated her looks a few times."
"As for her fashion, I don't really take inspiration from her outfits because our bodies are different and what she wears wouldn't flatter me," she further said. "Companies have sent us Kim-inspired outfits, but only once or twice we agreed to wear and advertise for them, which is why you will see some similar clothing items."
In an interaction with BuzzFeed, Sonia said: "I always get it at airports and when I'm shopping, more when I visit the USA. I have never seen it but my family and friends always would say there was a resemblance."
The British beauty blogger sisters, who live in Dubai, specialise in makeovers for the Middle-Eastern skin. They have also worked with celebrities such as Naomi Harris and Helen Flanagan.