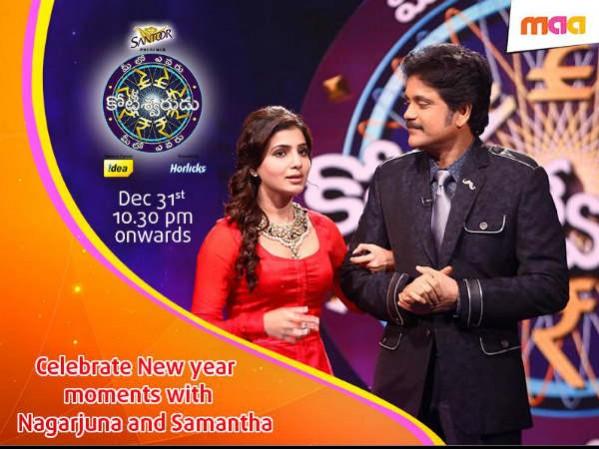 The second edition of Akkineni Nagarjuna's reality TV show "Meelo Evaru Koteeswarudu" (MEK2), has opened to a fantastic response with TRP ratings reaching 8.2 on the first day.
The viewers' response to "Meelo Evaru Koteeswarudu 2" is on par with the first season. Akkineni Nagarjuna is all excited over the response and has thanked the audience. On 18 December, the actor-turned-host tweeted: "#MEK opens with an incredible 8.2 trp /thanks my dear audience for this fantastic start:)"
"Meelo Evaru Koteeswarudu" is a television game show created by Abhinav Surabhi and produced by BIG Synergy Media, which produced the internationally acclaimed Hindi game show "Kaun Banega Crorepati."
The first edition of this Telugu TV show was telecast on MAA TV from 9 June to 7 August 2014 and garnered superb response.
The one-and-half-hour episode of "Meelo Evaru Koteeswarudu" (MEK) recorded an all-time high of 9.7 TVR in female 15+ and 8.2 TVR in cs 4+ in its opening week. The show landed at the fourth position in the non-fiction category in its launch week. It also did well in the following weeks.
Producer Siddhartha Basu, widely regarded as the father of TV quiz shows in India, also thanked viewers as well as Nagarjuna for the success of "Meelo Evaru Koteeswarudu 2". The founder of Synergy Media tweeted, "#MEK opens season 2 on #Maa TV with a whopping 8.2 rating, thanks to stellar contestants & @iamnagarjuna . Way to go."
Apart from Nagarjuna, special appearances of several Tollywood stars had helped "Meelo Evaru Koteeswarudu" maintain the audiences' response throughout the first season.
The makers of the show have planned to bring in some celebs in the second season also. Rakul Preet Singh and Samantha are two such celebs and both of them have already shot for the special episodes.
On its official Twitter page, the bosses of MAA TV posted a photo featuring Samantha with Nagarjuna on "Meelo Evaru Koteeswarudu 2" and wrote. "Celebrate this New Year with #MeeloEvaruKoteeswarudu @iamnagarjuna and @Samanthaprabhu2 ..This 31st Dec from 10:30 PM."