Apple and Samsung continued to dominate the smartphone market in the UK in the third quarter of 2017. While the performance of the tech giant duo was largely mediocre, China's Huawei put up an impressive show with consistent double-digit market share during the period, according to a new report from market research firm Counterpoint Research.
Although Apple led the UK smartphone market with just over 34 percent share, its sales declined sequentially. Slightly behind the iPhone-maker was Samsung, whose market share remained flat year-on-year during the three-month period, ended in September.
Huawei, which was the third largest brand, accounted for 13 percent of the overall smartphone market, leveraging a diverse portfolio across all price-tiers. However, it was still some distance behind Apple and Samsung, controlling over two thirds of the UK smartphone market in sales volumes and more than 80 percent in sales value, the Counterpoint report said.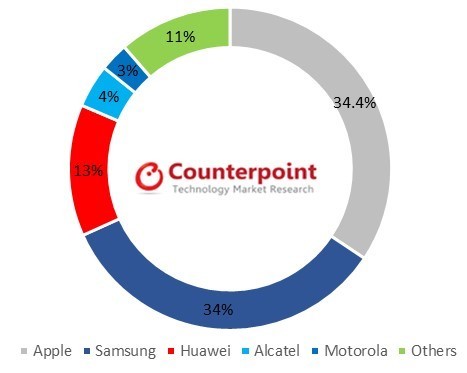 In addition, Huawei's P10 lite also made it to the list of the best-selling smartphones in Q3, and secured the fifth position after Samsung Galaxy J3. The top three smartphones were Apple iPhone 7, Samsung Galaxy S8 and Galaxy S8 Plus.
"The Apple iPhone 7 was the bestselling smartphone and contributed to 15% of the total smartphones sold in Q3 2017. Samsung's Galaxy S8 and S8 Plus were second and third," Peter Richardson, Research Director at Counterpoint, said in a statement.
Samsung also has a strong range across all price bands and it, together with Huawei, provided a strong volume platform that was resilient to attack from most other brands."
Huawei has been enjoying a winning momentum over the last few months. In a recent report, Counterpoint revealed that the Chinese brand outsold Apple in global smartphone sales consistently in June and July to claim the second position after Samsung.
An IDC report said earlier this month that Huawei was the third largest smartphone vendor in the world in the third quarter of 2017. According to the report, Huawei accounted for 10.5 percent market share, preceded by Samsung and Apple with 22.3 percent and 12.5 percent market share, respectively.
Coming back to the UK market, the Counterpoint report said that the top five brands accounted for almost 80 percent of the smartphone sales during the July-September quarter. The overall UK handset market, on the other hand, declined 8 percent year-on-year.