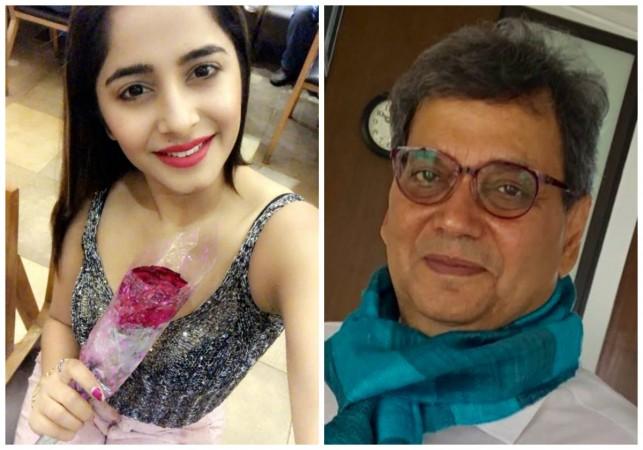 In a shocking turn of events, actress Kate Sharma who had accused veteran director Subhash Ghai of sexual abuse in the ongoing MeToo movement, has withdrawn her complaint against the latter four days ago.
According to Mid-Day, Kate informed "the DN Nagar police station in a note that she wants to take back the plaint to take care of her ill mother and the rest of her family, all of whom are anxious and disturbed since she filed the case."
"Yes, I have informed the Mumbai Police that I want withdraw my complaint against Subhash Ghai. I want to take care of my family and my ailing mother instead of roaming here and there to get justice for whatever has happened to me. I had never told my family about what happened; they saw me on TV and were completely disturbed," Kate told the daily.
But what prompted Kate Sharma to take back her complaint against Subhash Ghai after speaking about his sexual misconduct in public?
She explained, "People are really making fun of the entire #MeToo campaign. Nothing has happened, nobody has been arrested. If cops are only busy registering FIRs, then what is the use of this entire campaign? Tell me, how many people have been arrested? Cops asked me if I wanted to register an FIR, but I don't see any reason for moving ahead to get justice as whatever I had to say is in the public domain. We [Ghai and her] were very good friends, but he destroyed everything; I've said this publicly and I'm saying it again. I am fed up of everything, hence I have withdrawn my case."
Director Subhash Ghai was caught in the MeToo storm when an anonymous woman accused him of spiking her drink and sexually assaulting her inside a hotel room on social media. The woman's account of sexual abuse encouraged actress Kate Sharma to come out with her story when Ghai allegedly tried to forcefully kiss her, hug her, touched her private parts and threatened her when she refused to spend the night with him at his house.
Kate had filed a written complaint on October 12 and thereafter the police had approached her to record her statement on October 25 but she sought more time.
On the other side, Ghai took to Twitter to claim his innocence and said, "Destiny shows u good times bad times - I m deeply pained 2b gripped in this movement but thank those who know me n my respect I shower to women n their dignity in spite of our cosmetic world we live n react more thru our love affection n respect Now seen in different perspectives [sic].
"I am a great supporter of the #MeToo movement and women empowerment, but hope that those taking undue advantage of the movement do not end up diluting it for their own short time fame. I feel grief if someone is trying to harm my reputation. Anyway, my lawyers will take care of the matter."