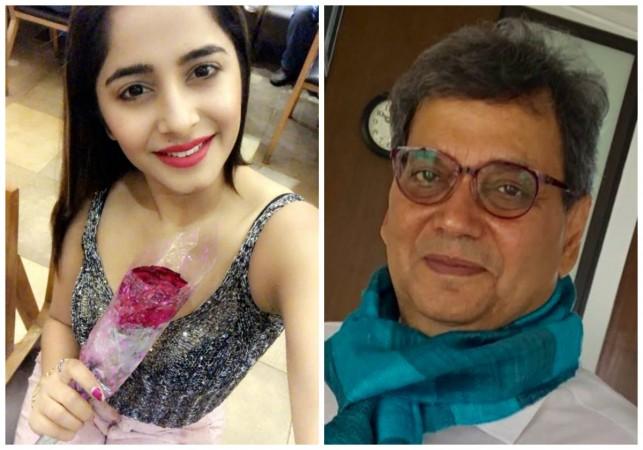 After an anonymous woman accused Subhash Ghai of sexually assaulting her, an actress has now made sexual harassment charges against the veteran director.
Kate Sharma has alleged that Ghai tried to forcefully kiss and hug her at his house. She further said that he started touching her private parts, and threatened her when she reacted and refused to spend the night with him.
Kate has filed a police complaint against Ghai on charges of molestation, according to reports. Kate narrated the incident on Facebook in which she claims Ghai made her give him a massage and then sexually harassed her.
Below is the FB post:
"Thanks to me too campaign I have got courage to speak about my heartbreaking horrible incident happened with me on night of 6th aug with 73year old legend ,so called selfish friend "Subhash Ghai " @subhashghai1 I was living from very heavy heart and guilt from last 2 months#deeplydestroyed. Incident happened was Shock of my life.I lost respect and faith for people in film industry.
Worst day of my life when we were at his home he told me to give him a massage , he kept my hand on his back and ear and told me to give me massage and than with respect of his age I did it , suddenly he pulled me on him, and tried to kiss me,and started putting his restless hands on my private body parts I really don't know how I defended myself ,and pulled him away I told him that I have to go to birthday party please sir let me go ,and worst ,he challenged me if you will not come back today I will not work with you ,he said no matter it's 3 4 5 am you have to come. His words were " dekh le aaj ka din hain ,yaa toh aaj yaa toh kabhi nahi" I can make you star , aaj teri pariksha hain ..decide karle..
That mental torcher and pressure on me he created that I was shivering and not able to think anything. I withdrawn myself from that situation in shock. Same night he msgd me at 2.30am with the question mark of my coming back, than I msgd him with a scary heart that sir I can't come.I m in severe headache. And after this molestation he started ignoring ,he stopped answering calls and he stopped msging me. He proved that were all fake promises,He proved that my birthday party organised for me by him was also with wrong Intensions. He told remove all our pics from social media because people will misunderstand our relation. He proved that if 73 year old intelligent person do such things ,anyone can do..so where aspiring girls should go and where they can stand in this Hindi cinema ,why these bloody cowards want a girl only for there penises .. Can anyone please tell me ???? Cried !! I was not able to tell this to anyone or my family. But today I felt I should speak and fight for my self respect. Girls don't trust anyone , create your own path. Fight!"
Kate has also shared screenshots of some text messages. In one of the chats, Ghai appears to be asking Kate if she is a virgin.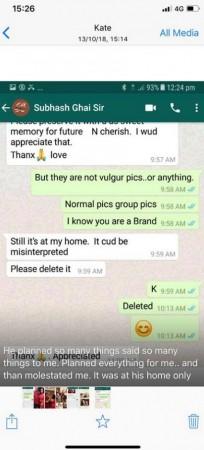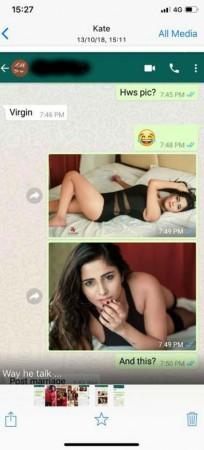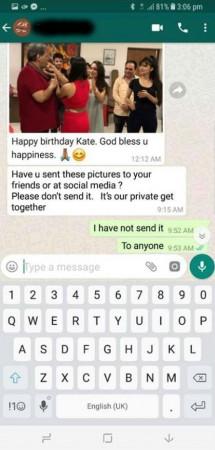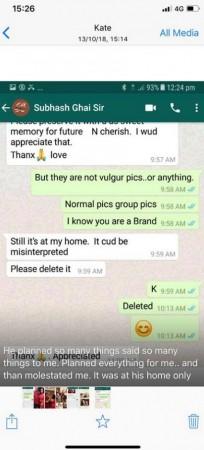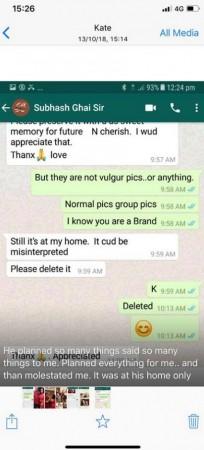 Earlier, in the wake of #MeToo movement on social media, a woman had accused Ghai of spiking her drink and raping her at a hotel.
On the other side, Ghai took to Twitter to claim his innocence. After the first allegations, he said, "Destiny shows u good times bad times-I m deeply pained 2b gripped in this movement but thank those who know me n my respect I shower to women n their dignity in spite of our cosmetic world we live n react more thru our love affection n respect Now seen in different perspectives [sic]".
And now after these fresh allegations have been made on him by another woman, the film-maker said his lawyers are taking care of the matter.
"I am surely a grt supporter of d metoo movement n women empowerment bt hope that those taking undue advantage of the movement do not end up diluting it 4their own short time fame. I feel grief if some one trying 2harm my reputation.Any way my lawyers will take care of matter [sic]," he tweeted.
Meanwhile, Kate has also made a post on Facebook in response to people who accused her of doing this for publicity. Kate said she has all the proofs of how Ghai repeatedly tried to convince her to meet him alone.
The ongoing #MeToo movement in India has put many big Bollywood celebs under the scanner. The list of accused celebs includes Nana Patekar, Alok Nath, Ghai, Salman Khan and Vikas Bahl among others.