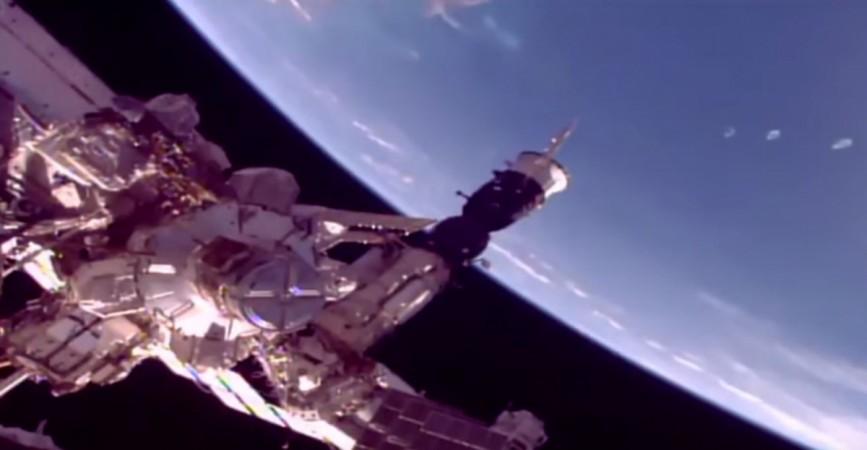 A 2016 video from the International Space Station's live feed has sparked a speculation now about a "massive golden UFO" and an alien cover-up. Conspiracy theorists claim that the video shows a bright golden light over 200 miles away from the camera as the ISS orbits around the Earth.
Also Read: Is this the truth behind the US Navy's UFO video that convinced alien exists?
A mysterious glow can be seen originating from the bottom right corner in the three minutes 30-second video. The video, which was posted by Streetcap1 on YouTube, was initially shared on August 1, 2016, but it has resurfaced this week with conspiracy theorists talking about the alien cover-up.
"Please stand by: The High Definition Earth Viewing experiment is either switching cameras, or we are experiencing a temporary loss of signal with the International Space Station," the standby message reads.
Several YouTuber commented saying the mysterious object is nothing but a golden UFO.
"I thought I was seeing things at first then quickly started recording,' the YouTuber wrote. This has to be huge whatever it is. If it was a building it would be hundreds of miles long," Streetcap1 explained in the YouTube description.
Here is what YouTube users commented on the video:
Tammy M: Hope your able to catch more recordings or UFO's from the ISS LIVE FEED before it's GONE FOREVER
Whatisreality01: This is some type of ufo EMITTING a MASSIVE SPOTLIGHT or something like it . The light clearly is illuminating the clouds beneath it. This object is HUGE , possibly MILES in diameter !!! If you figure out the exact scale of miles per inch on this video you would have a more accurate answer.
Zorroboricua brujo: they are here! I wonder when they are going to make their great entrance on a major city,and the people reaction!
Appraised: Maybe a probe from somewhere. Looks like an angular object inside a translucent spherical object. How did it creep up on ISS unnoticed? If NASA keeps shutting the camera off when cool things appear, then change the name to International Spy Station or something. I hate that they give simpleton reasons camera winked out.